Located just a few miles from the FauxPanels.com™ headquarters, Adventureland is nothing short of a Long Island institution. And now, fresh for the summer season, it's received an awesome faux panel makeover!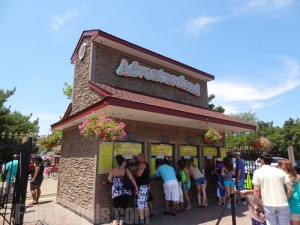 Long Island Institution Adventureland just got a faux panel makeover.
Iconic Adventureland gets a Faux Panel Makeover
A whole generation of Long Islanders grew up with memories of Adventureland - the fun-filled amusement park in Farmingdale, Long Island. Working there in the 1980s even served as inspiration for filmmaker Greg Mottola, who used it as inspiration for his 2009 movie of the same name (even though it was filmed in Pennsylvania).
But even as parents get nostalgic about the place, a new generation of kids are enjoying the attractions - as Adventureland continues to serve the local community all summer long.
This year, the owners decided to give their venerable ticket office a makeover; and sought the assistance of FauxPanels.com to do it. In addition to wanting to support a local company, our faux panels allowed them to get an awesome new look without having to break that summer's budget.
Our synthetic stone veneer panels attached right to the exterior of their ticket booth with regular construction adhesive and screws - and because our panels are made from light and durable polyurethane foam, could be cut with a regular wood saw to fit. The result is an exterior that looks just like real stone; but is actually lightweight, waterproof and cost a fraction of the price.
One noteworthy observation about Adventureland's installation is how they dealt with the corners of their ticket booth.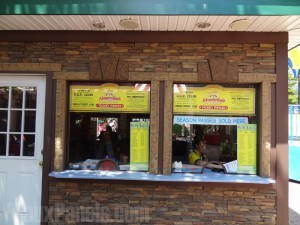 A closer look at the ticket windows which feature faux stone trim and trim blocks.
Corners present a challenge to some contractors - but with faux panels, we try to make it easy. One option is to miter the corners - cutting 45 degree sections off each end so the panel "folds" over and you create a perfect 90 degree angle that preserves the seamless pattern of the molded stonework.
Another option we offer are faux stone corner pieces - which connect directly to the surface you're covering and make corners incredibly quick and easy. You just choose the pattern that matches your panels and line them up to the regular panels.
But at Adventureland, they've done something different entirely - and instead of finishing the corners, have covered them up with hard plastic corner pieces.
In addition to being an easy, time-saving alternative to proper corners - and still looking great - this detail actually helps protect the corners from thousands of people's bags, backs and butts as they purchase their tickets and visit the park. Our synthetic panels are already incredibly tough and durable. With the addition of those robust corner pieces, they ensure this great-looking ticket booth will be welcoming park patrons for decades to come.