Down in Texas, they don't do things in half measures – and that includes kitchen remodeling.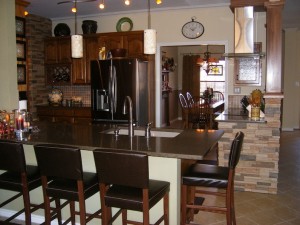 Cathy's kitchen design underwent an incredible transformation
If you need proof, just look at the incredible results Cathy got when she decided to add a little 'wow' to the kitchen design of her Grayson County home. She certainly went further than just a lick of paint:
"Faux stone was definitely the way to go," she wrote to us, showing us the 'before' and 'after' pictures.
Adding a 'Wow Factor' to Kitchen Design
Before, Cathy's kitchen was pleasant enough – but the wooden cabinets didn't seem to gel with the plain white walls, and the carpet was completely out of place.
To create a more harmonious kitchen design, Cathy's family selected to use a beautiful ensemble of cherry wood cabinets, marble counter tops, gleaming stainless steel appliances and rugged stone tiles – and made something even greater than the sum of those parts with the strategic use of our Norwich Kentucky Dry Stack Panels in Desert Sand.
The results, as you can see from the picture, were spectacular.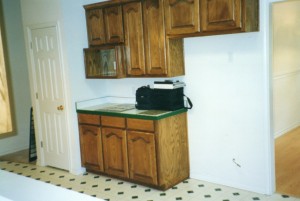 BEFORE: Plain walls and counters made for a lifeless kitchen
"It's a great product," Cathy writes, "and we're thrilled with our new kitchen." The faux stone added what she calls "the Wow factor!"
"We had a brick layer at our house and he came in to see the remodel," she tells us, "and it took even him a few minutes to figure out that it wasn't real stack stone!"
Where Cathy's kitchen remodeling project really shines is in the way she's got all the intricate corners of the walls and counters matched perfectly; so the faux stone panels blend together perfectly, just like real stacked stone would.
It looks impressive – and it is – but the beauty of faux interior paneling is that this sort of detail you can match in your own home, with only the most basic tools. Check out our how-to-guides for step-by-step instructions on how to install, cut, mitre and caulk Norwich Kentucky Dry Stack Panels yourself.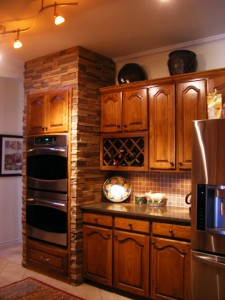 AFTER: Faux stone is the perfect addition to new counters and appliances
But while installation is easy, it takes real talent and vision to envision and then create a kitchen as harmonious and balanced as Cathy's.
What's so impressive about her remodel isn't just the clever use of Norwich Kentucky Dry Stack Panels, but the way in which the faux stone works so beautifully with every other aspect of the remodel – the kitchen cabinets, the counter tops and the stone tiling.
That's what makes emails and photos like Cathy's so exciting to receive. We've seen countless pictures of home and kitchen remodeling using just about every variety of panel we produce. Every one of them is impressive - but we've yet to see two that are alike!