Making a cookie cutter home look custom
When Gail and her husband moved to a 55+ community, they customized their cookie cutter house with a touch of individual style -- with the help of our Norwich Stacked Stone panels.
People always talk about getting older like it's a bad thing, but there are some great advantages to hitting milestones in your life. Once you hit 55, for example, you're eligible to move into 'active senior' communities, which often feature an abundance of amenities and cost a lot less than town homes or condos.
AFTER: Understated yet gorgeous, the new accent wall adds some individuality to the kitchen space.
Gail and her husband relocated to a beautiful 55+ community right in the heart of Pennsylvania's beautiful Lehigh Valley. The one complaint Gail did have, however, was that the homes and apartments in the community were a little too 'cookie cutter' - as in, they all kind of looked and felt the same.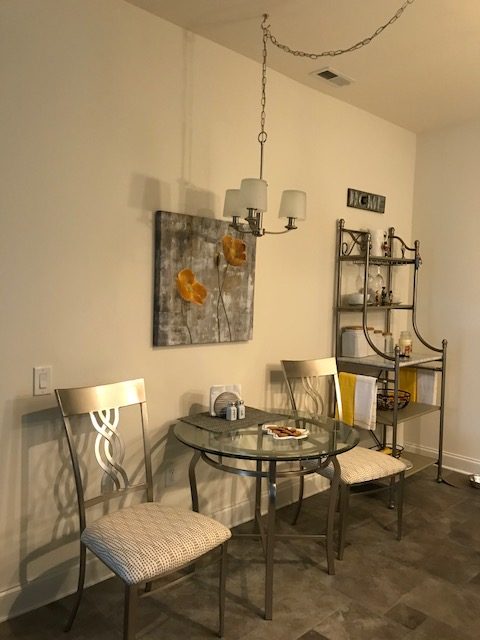 BEFORE
"We moved in about a year ago," Gail explained in her email, "and have been adding finishing touches to our new home to make it our own."
As you can see from the pictures, she succeeded. But in addition to tasteful design and decorating, Gail and her husband went one step further...
"We created an accent wall in our kitchen and used your faux stone on our fireplace. We LOVE the look - and it makes these two areas so warm and cozy!"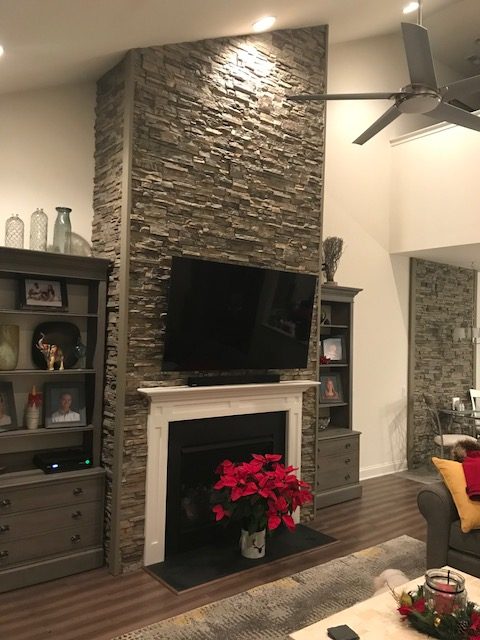 AFTER: The fireplace looks like it's really made from hand-stacked stone.
Accent walls, as we've mentioned before, are a popular design trend that can really transform the look of your home, without breaking the bank or looking overwhelming. The concept is to take a single section of wall and cover it with something dramatic - from a bright coat of paint to the textured stone panels that Gail chose - and then let that small section of wall change the character of the entire room.
In most cases, adding an accent wall is technically straightforward, but requires a good eye for design. That's something Gail clearly has - since she managed to perfectly balance the tone of the wall with the decor of the rest of the room, and it really serves to enhance the entire space.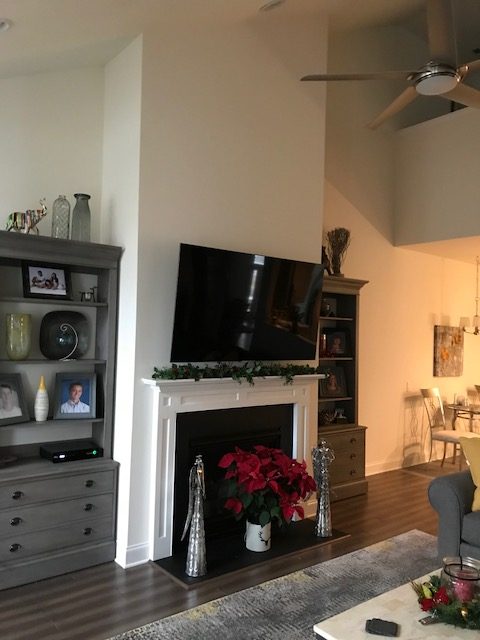 BEFORE
Not satisfied with that, Gail and her husband also used the panels in another room to cover the area around the fireplace. Gail once again showed her eye for detail with how beautiful it turned out.
Ultimately, the two projects that Gail undertook were neither expensive, impractical or difficult to complete - but they made an amazing difference to her home. The addition of faux stone really made their 55+ community home seem like it was theirs - as unique and stylish as Gail and her husband themselves.