If you want to see a truly dramatic room transformation, then look no further than this project. A shiplap wall accented with our Custom Rough Hewn Beams made for a beautifully rustic design.
One of the advantages and drawbacks of American home design is that it's uniform - using standardized framing and drywall techniques that make brand-new builds look almost identical. There's a huge opportunity for homeowners to put their own stamp onto a house; but it takes a real flair for design to truly create something that stands out.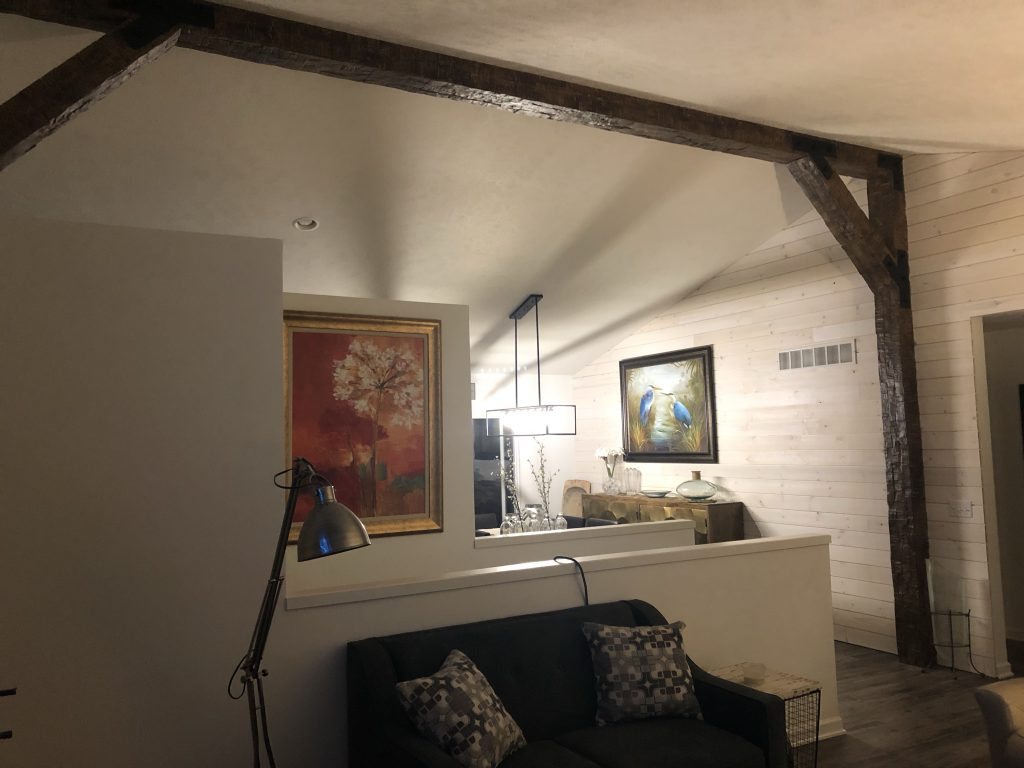 However , today we're able to share with you photos from a project that does exactly that. The before and after pictures are some of the most striking we've ever seen, and if it wasn't for the layout of the room being the same, you'd almost not believe the pictures were taken in the same house.
The situation was this: A brand-new room finished in a very standard style; waiting for a homeowner to make it 'theirs.' The walls were a a standard taupe, the floors were bare concrete and the ceilings were a cavernous white.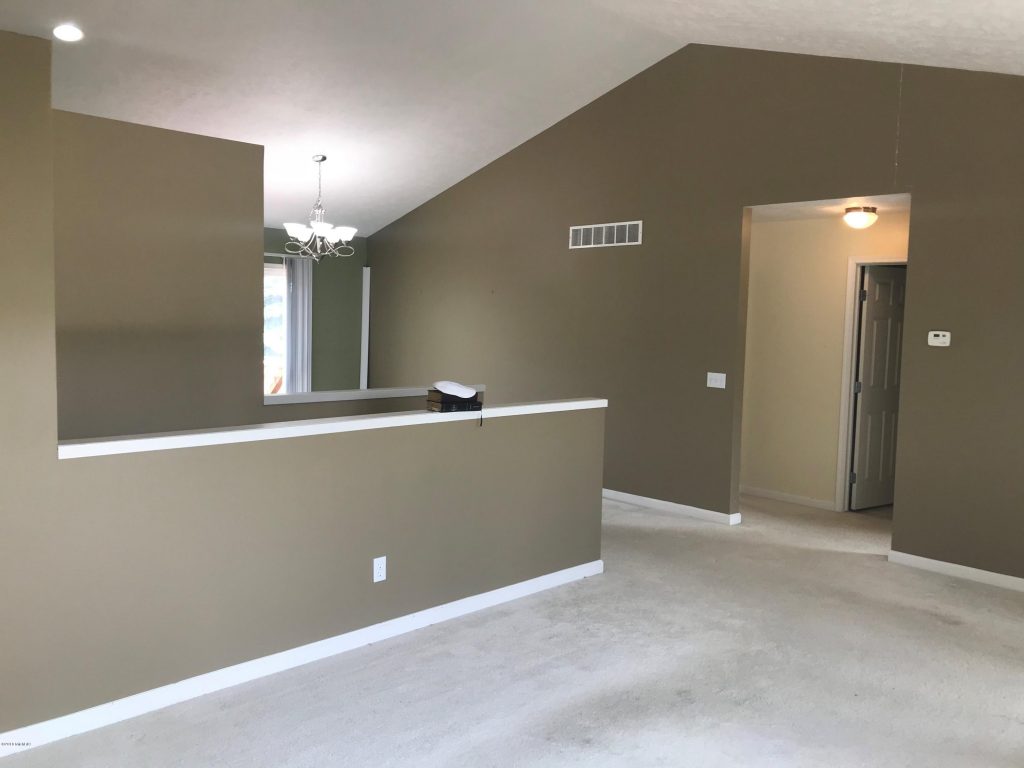 Homeowner Nancy wanted something many people might not have thought possible - a rustic, home-style room that had a bright and light aesthetic; blending seemingly-incompatible traditional and contemporary elements.
And yet - she succeeded.
Initial steps were to add hardwood-style flooring over the bare concrete, and shiplap boards over one entire wall. The choice to use shiplap on just one wall was a smart one - creating the 'feel' of a rustic room without overwhelming the entire design or creating a look that harked back to the wood-paneled basements our parents were so fond of.
Clean, light-colored paint then matched the shiplap and helped amplify the light in the room - and a hanging light fixture created beautiful shadows that would change and shift depending on the time of day.
What really took the project over the top, though, was the addition of our Custom Rough Hewn Beams in Walnut.
One of the problems with large, open-planned rooms built using traditional methods is that the ceilings are just immense. All that white space can seem cavernous and it blends into itself; remarkably seeming smaller and more closed off the larger and taller the ceilings are.
The answer to this often seems counter-intuitive - adding a contrasting element to break up and 'frame' the space. It's a highly-effective technique, though, and one that Nancy gravitated towards.
She added a faux beam structure to the room - pairing beams that run up the wall to one that crosses the entire ceiling space at the peak of the apex. It's a really clever design because it mirrors how a real supporting beam might appear - and yet is purely decorative.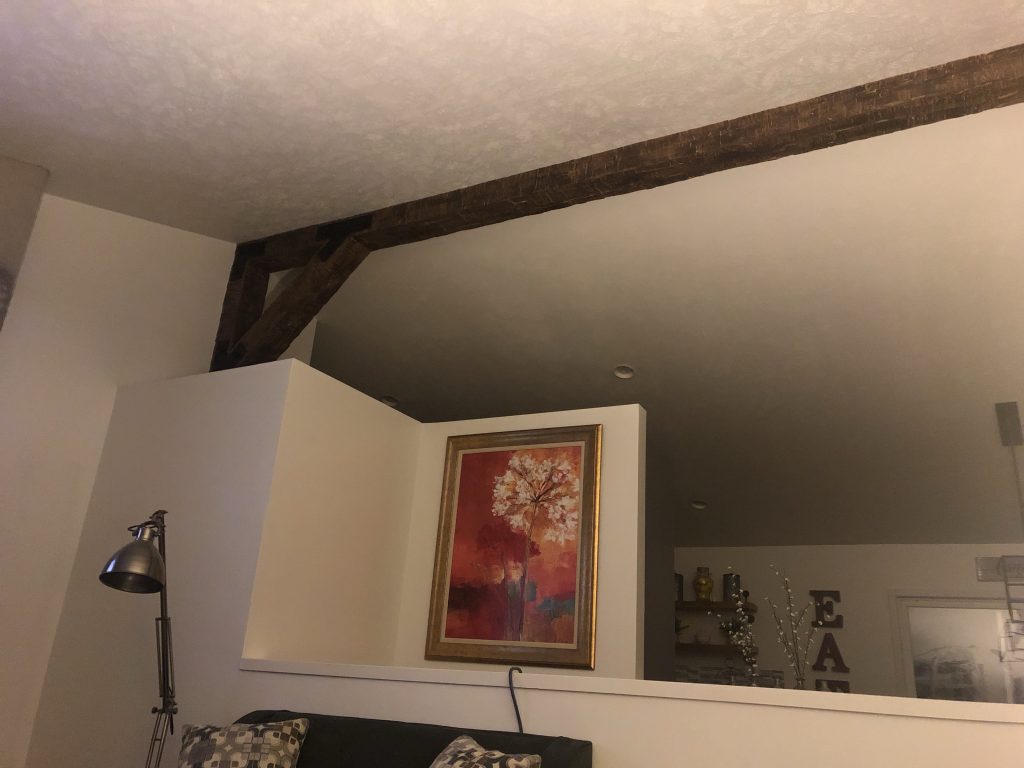 The decorative aspect is significant. To install real wood beams - even a potentially self-supporting structure like this one - would be prohibitively expensive and wildly impractical. In addition, it would be really difficult to find a beam that looks like the one Nancy chose - molded from real rough hewn wood and mirroring the deep gouges that show how they were carved from the original tree trunks.
By 'going faux' Nancy was able to find the exact 'look' of wood she wanted, and it was effortless and affordable to install.
The beams were first measured and cut to size with a regular wood saw, and then installed by slotting them over mounting blocks screwed into the stud work of the walls and ceiling. Because our beams are hollow and u-shaped, they simply slot over mounting blocks and can be secured with screws.
To take the design a step further, Nancy invested in additional lengths of beam and cut the ends at an angle - securing them to look like bracing elements as might appear in a timber-framed house of this type.
The pièce de résistance was to add our accessory beam straps - which are lengths of molded rubber that resemble the iron strips once used to brace and support timber beams. These elements make the stunning beam structure look even more realistic.
It's a design that's elegant in its simplicity - but looks amazing. The finished beam breaks the room into two halves, and mirrors and amplifies the understated rustic look of the shiplap. At the same time, the beam elements aren't overwhelming and look absolutely organic.
But to us, what's truly impressive is how our beams blend into the overall aesthetic of the room. As I wrote in the beginning of this blog, the BEFORE and AFTER pictures are mind-boggling; looking almost like two entirely different homes.
What's really special about the project, though, is how it looks right. Nancy didn't make the mistake of trying to shoehorn a rustic look into a house that didn't suit it. Instead she did the seemingly impossible and made this modern home look truly classical; and that's an end result we can't help but be impressed by.