Customer Jennifer Newton wanted to share pictures of her new rustic mantel bought at FauxWoodBeams.com.
Warming Things up with a Rustic Mantel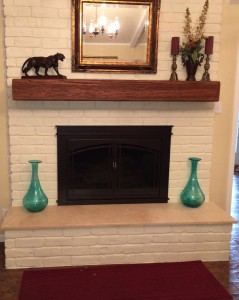 AFTER: With a warm coat of paint and a new faux mantel, this fireplace looks perfect for winter in Texas.
Texas experienced a brutal winter this year - hit with snow and ice that residents haven't seen the likes of for decades. That's why more and more Texans were lighting up their fireplaces for the first time in years; including Brownwood resident Jennifer Newton.
The difference with Jennifer, though, was that her fireplace was ready for action. She'd recently completed a fireplace makeover that TV's home design experts would be proud of - and, pride of place, was one of our Custom Sandblasted Mantels in classic Walnut.
Jennifer was kind enough to send us pictures - and they serve as a great way to see what a difference her designs made.
On the surface of it, the foundations of Jennifer's new fireplace remain the same. She's taken the beautiful textured brick and simply painted over it with a gorgeous, rich cream that perfectly matches the rest of her room. She also refinished the front of the wood-burning stove; so it looks a little more understated and classy.
But what did change was the mantel.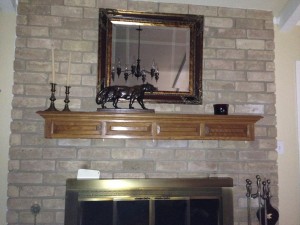 BEFORE: Drab and dated, the mantel desperately needed replacing.
Originally, as you can see from the picture, Jennifer's fireplace had a very dated-looking manufactured mantel. While perfectly serviceable, it definitely didn't fit with the aesthetic she was looking for.
That's why she chose one of our Custom Sandblasted Mantels. Molded from high density polyurethane foam, the mantel perfectly mimics a real timber mantel; except it cost a fraction of the price of real wood, and is lightweight and infinitely easier to install.
In fact, the existing mantel made installation even easier. The original was attached to the brick with mounting blocks, and once the mental was unscrewed from the those blocks, they were perfectly positioned to slot the new mantel right on top. A couple of screws secured the whole thing and it was ready to go.
And the mantel doesn't just look gorgeous - it's also fully functional. It can be used to hold pictures, vases, statues - pretty much anything the old one could have handled.
And when paired with the newly-painted wall, the impact is impressive. Much more up-to-date, the walnut colored faux wood and the cream bricks provide a warm, classic look perfectly in keeping with Texas home design.
We love it - but what do you think? Let us know in the comments section below!