Many homeowners have free reign when it comes to personalizing their homes and properties – but others face a challenge when it comes to making their living space feel uniquely 'theirs.'
Stone Veneer Panels in a Renaissance Apartment
Renaissance Faires inspired Josiah's interior design
Take 25-year-old Josiah, for example.
Monday to Friday, if you met him on the subway, you wouldn't give this I.T. specialist a second glance. But, during the summer months, he's away wielding a sword at Renaissance Faires across the country.
"I've always loved Renaissance Faires," he told us, "ever since I was a teenager. There's the romance, the heroism – and all the girls in corsets." His love of the Renaissance lifestyle has stretched to several hand-made costumes, a collection of swords and axes and even a half-suit of armor that cost more than is first car.
But when Josiah got the opportunity to move from the suburbs of Long Island to New York City, it seemed like he'd finally have to follow the advice his parents had been giving him since he hit 21 – and "grow up."
"Something told me swords and surplices wouldn't exactly 'fit in' in Queens," he explained, which is where he ended up finding a modest studio apartment to rent.
But in the end, Josiah was able to bring a little bit of his rebel, Renaissance lifestyle to the big city – thanks to stone veneer panels.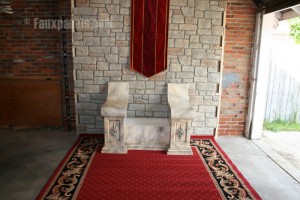 Carlton panels recreate the Middle Ages look perfectly
"My apartment's on the top floor of a three family home," he explained," and the owner actually lives downstairs. When I moved in, he told me to 'decorate it however I wanted.'"
"He was probably only expecting me to splash on a coat of paint or something; but when he saw the removal truck roll up with my suit of armor, he was the one who suggested what I eventually ended up doing."
In order to add a little period charm to his apartment design, Josiah's landlord suggested he use stone veneer panels – and even offered to help them install them.
"Because you could install them with screws and glue, he didn't mind me putting up panels on one wall of my apartment," Josiah explained. "At least, not after I'd signed a two-year lease!"
In the end, Josiah picked out Carlton Cobblestone Panels to cover the wall at the head of his bed: "I liked those the best because they really looked like they could have come from a medieval castle."
At 45" wide, it didn't take many panels to cover the wall – and it was very affordable. "With installation and everything, I worked it out to be about $12 a square foot," Josiah told us, "which wasn't bad, since my apartment is tiny!"
Paired with a rich, royal-red bedspread, plus wall displays for his swords and axes (and that famous half suit of armor) the result looks straight out of the Middle Ages; and Josiah loves it.
"The only sticking point is with my Mom," he jokes. "She says I'll never be able to bring a girl home with the place looking like this."
Although so far, he's the first to admit that hasn't been a situation he's yet needed to deal with!