See how a modern turret ceiling got a classic design upgrade with these project photos sent to us by a commercial customer in Ogden, Utah.
This Modern Turret Ceiling Got a Classic Design Touch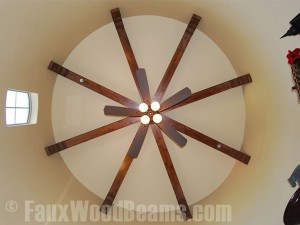 This stunning spoke-wheel ceiling design was constructed out of sandblasted false beams and corbels.
"This is a great product to use when looking to add a decorative touch to a home or office," wrote Osogrande, a contractor and photographer from The Beehive State.
He also sent us some great photos of the incredible ceiling project he'd completed in the turret hallway of his offices in Ogden.
We're always excited to see our beams and other products used in new and innovative ways, but Osogrande's project blew us away.
By using a combination of Heavy Sandblasted beams and Sandblasted corbels, he's created a stunning eight-spoke pinwheel ceiling fixture that added a touch of timeless sophistication to an otherwise unexceptional modern roof.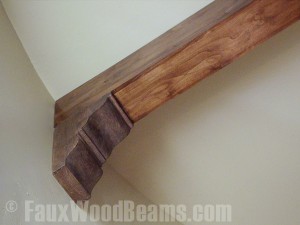 Faux wood corbels added a subtle detail that helped ensure the ceiling design looked like it was authentic.
This project actually displays not one, but three of the incredible advantages of "going faux."
For a start, using our products allowed the client to create this stunning ceiling fixture in the first place.
Modern building techniques - even those used to create unusual architecture like this turret-shaped hallway - had largely eliminated the need for bulky reinforcing beams; and hoisting real timber and attaching it to the ceiling would have been impractical, expensive and required significant structural support.
Here is a good shot of how the interconnecting beams meet - a detail made easy because out beams can be cut to size with a regular wood saw.
Faux beams, on the other hand, are made of lightweight and durable polyurethane foam; which means they can be lifted into place by a single person; and attached to wooden mounting blocks with nothing more than regular screws.
As a result, the client was able to create a vividly realistic wood ceiling fixture that simply couldn't have existed using real wood.
Secondly, our beams are incredibly easy to cut to shape - using nothing more than a regular wood saw.
As a result, the client was able to create this intricate spoke design by cutting wedges into the end of each diagonal beam and connecting them seamlessly together (using caulk to fill in any gaps.)
The ability to easily cut our beams also allowed them to drill a hole in the center beam for installing a working ceiling fan - something that would have been impossible using real timber.
By purchasing faux beams and corbels in matching colors (each intricately detailed to resemble real wood) the entire project looks like it's been made from ancient, hand-hewn timber.
Some might also argue that faux is better than real because there are no mismatched wood colors and other subtle imperfections that can make real wood ceiling treatments look a little "off." It's the perfect balance between realism and perfection.
"The faux decorative corbels that we purchased add a very natural, appealing look to the faux cross beams in the turret entry way of our new office," Osogrande finished off in his email. We couldn't agree more!
If you've got a similar project you'd like to see featured here, please let us know! Email pictures and a description to info@fauxwoodbeams.com. We'd love to see it!