An Excellent Tuscon Interior Design
Darlene Bartoletta, from Tampa, Florida, shared pictures of her family's new 'forever home' with a Tuscan interior design that's simply stunning.
Darlene knows a thing or two about home building - after all, that's been her husband's business for over 30 years! Which is why, when they decided upon retirement to move into this house, she had very exacting standards about what it should look like.
Darlene's stunning Tuscan home uses our beams strategically to mirror the design of authentic Italian mansions.
One requirement was a character-rich style reminiscent of the mansions of Tuscany, Italy. It's a popular look in America, but always difficult to pull off since modern home building techniques don't always balance well with classic, centuries-old style.
In Darlene's case, though, some clever design strategies managed to achieve the look she was going for, and more.
One of the keys to the design was the use of Tuscany Beams in Rich Walnut color on the ceilings of all the major rooms -- a logical choice as these beams are molded from authentic timbers like those used in old Italian villas.
In each room, Darlene mapped out how to install the beams so they'd resemble real supporting timbers.
Darlene carefully studied the layout of each of these rooms and then mapped out a configuration that mirrored how real beams would have been used to support the ceilings. It's that sort of attention to detail that made the beams look so congruent with the rest of the decor.
Choosing the beams and figuring out the installation layout was probably the toughest part of the entire project. Once that had been decided, installing them was a breeze. With Darlene's husband's experience, he was able to cut the beams to size effortlessly, and then mount them in position on wooden mounting blocks drilled right into the ceiling studs. Because the beams are so light, it's an astonishingly simple and straightforward job that can sometimes take just hours.
And the end result? Well, the photos speak for themselves.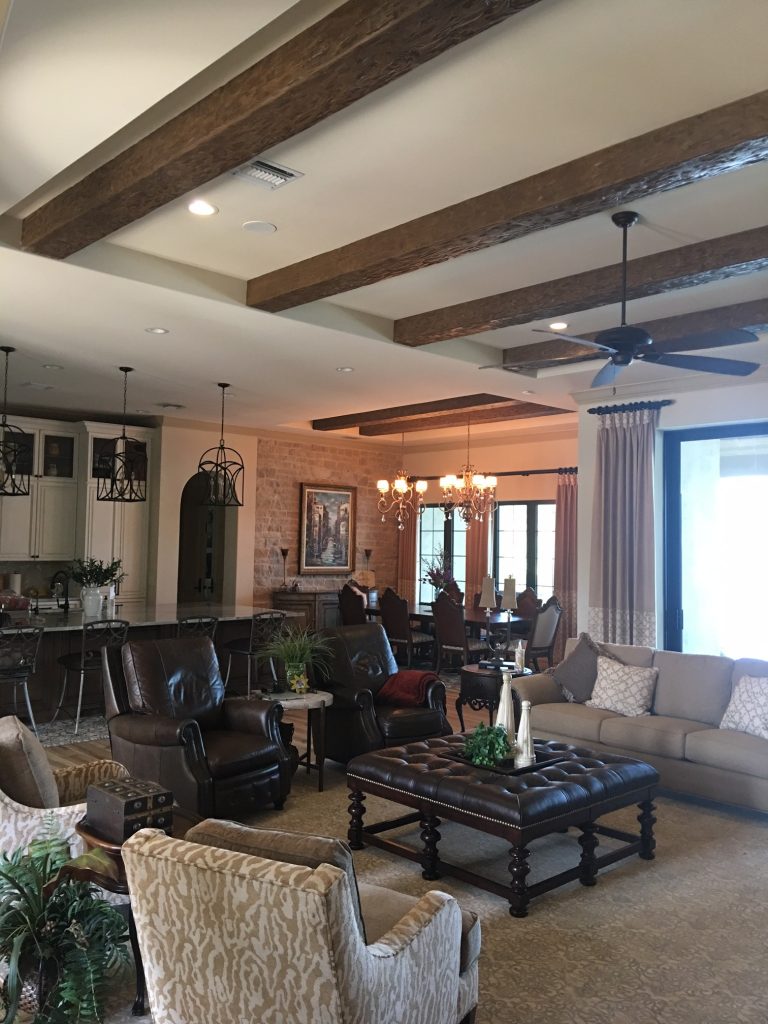 This is a really well thought-out and well-designed faux wood project.
Beams like this beautifully recreate the look of solid timber - but without the prohibitive expense and installation challenges. The unique manufacturing process captures every knot, grain and imperfection of the original wood, and once colored in a realistic stain, they are almost impossible to tell from the real thing.
"We are so excited that they are our focal point in our forever home!" Darlene writes in the email accompanying these pictures. "We are situated on a gorgeous lake in a very Tuscan-themed 12-home gated community and have had everyone raving about your beams!"
We love this project - it's one of the best examples of how to blend faux wood with real architecture, and create something spectacular out of the combination.