See how Jessica transformed her living room with a new river stone style fireplace.
"Our boring living room was begging for a focal point," admits New Jersey resident Jessica St. Clair, writing to us with details of her fireplace makeover project. "It was your panels that helped bring my vision to life!"
Setting the Tone with a River Stone Fireplace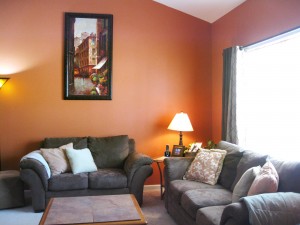 The before and after photos reveal Jessica's dilemma: Although beautifully decorated, with stunning terracotta walls and contrasting furniture, her room lacked a definitive center.
Her answer was a timeless addition that has helped bring focus to rooms for centuries: An electric fireplace.
Jessica chose a beautiful model built into a dark wood surround mantel; which gave the instant impression of a real log fire with fixture. The secret to completing that look, though, was the use of our panels.
"With a quick rearrange of furniture and the addition of the electric fireplace, beautifully set off by a tall river rock chimney, our living room now boasts character and style."
Jessica created the wall with a single column of Wellington River Rock panels. Using wooden caps on either end, she gave the instant appearance of a real stone chimney rising from mantel to ceiling; and unlike using real stone, it was a breeze to install.
"The material arrived promptly, was easy to use, and made our weekend project a great experience!"
Proof once again that FauxPanels often offer design possibilities that real stone and brick can't, Jessica finished off her chimney design with the addition of classical American five pointed stars and a flat-screen TV; mounted straight through the panels onto the wall behind.
How does she feel about the results?
"I'm so pleased with the last project," she admits. "I'm already looking forward to the next. I will be sure to shop with you again! Thanks for a great product and offering so many fantastic styles to choose from!"