A FauxWoodBeams.com employee comes up with a great idea for using leftover pieces of synthetic beam.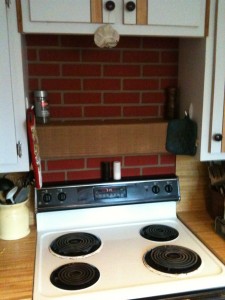 AFTER: Leftover beam paired with a section of extra faux brick panel resulted in this awesome kitchen backsplash.
A Little Goes a Long Way with Faux Beams
Here at FauxWoodBeams.com, we know we're selling a good product - because we're also customers ourselves! Many of us have used our synthetic wood products in our own homes, because we've got the inside track on their incredibly realistic finish, affordable cost and how easy they are to install.
Recently, FauxWoodBeams.com's Design Engineer George supplied some pictures of a kitchen project he was particularly proud of - and we hope it might give you some inspiration as well.
George had just completed using our faux wood beams to build props for the theater company he and his brother-in-law are involved with and his brother in law had some extra length left over, which he'd ordered to make sure there was plenty of material to work with.
So after completing the scenery they needed - rather than throw away the leftover lengths of synthetic wood, George had a simple, but show-stopping, idea of how to use it in his own home.
"The area behind my Stove was very "Blah"! After doing some theater scenery, my brother-in-law had some left over sections of Brick Panel and a Beam we had given him, so my son Jay and I came up with an idea on how to brighten up the area by using the Brick as the Backsplash, and using the beam piece as a shelf."
Before: The area behind George's oven was, in his own words, pretty "blah" before.
The project was incredibly simple. George's son, Jay, used a length of faux brick panel (from our sister company, FauxPanels.com) and installed it directly behind their existing oven. Our faux panels are available fire-rated - perfect for using in areas near an oven - and are totally water-resistant, making them an ideal kitchen backsplash. The panels attach directly to existing drywall with regular construction adhesive and screws.
Next, Jay cut a length of leftover faux wood beam to install as a shelf behind the oven. Our faux wood beams are hollow so can be installed over a square mounting block of wood with nothing but a few regular screws - and, once in place, serve as a stylish and usable beam for spices, utensils and other lightweight cooking accessories.
"Jay cut and installed the Project in a little over half an hour, and it gave the whole area a nice 'Rustic Home' look," George writes. "This isn't a bad idea if a customer has a leftover panel or a piece of a beam, since the area behind a 'Standard Range' is only 30" wide."
We think the finished results look amazing - and even more so given the fact that, since George and Jay were using a leftover beam, the cost of this project was effectively zero.
Have you come up with any original uses for leftover lengths of faux wood beam? If so, we'd love to hear about them. Email us at info@fauxwoodbeams.com - and send pictures if you have them. With your permission, we might even feature them here!