2013 was a banner year for FauxWoodBeams.com, full of success, surprises and of course great customers and their amazing projects. We're always interested in what sparks the interest of our fellow faux fans, and as the year comes to a close we look back and reflect on what got the most love in 2013.
What Got the Most Love in 2013
Most Loving Review
Custom Tuscany Beams Customer Rating: 5 Stars Submitted by Michelle E on February 1, 2013
Absolutely gorgeous
I have attached before, during, and after pictures of my 1964 fireplace remodel. You cannot even tell it is the same fireplace! The beam is absolutely gorgeous, and anyone who comes to see it is amazed by how real it looks. Even though we ordered a 9' long mantel, it was easy to install. I added a light coat of stain to achieve a darker look to match my décor, but I let some of the original Cedar stain show through. I am very pleased with the end result!
Thanks again for your wonderful customer service and amazing product!
Most Loved Blog Post
There are many different types of faux wood beams to choose from, but what do all those names mean? In February 2013, Roland posted a comprehensive guide to each style of beam and their unique characteristics, from Timber to Pecky Cypress. Click the title to read the post:
What Are The Different Types of Faux Wood Beams?
Most Loved Video
On August 6, 2013, we uploaded this clip of DIY Network's "I Hate My Kitchen" - the Industrial Farmhouse Kitchen episode. Watch host James Young prep and install our faux wood ceiling beams.
Most Loved Facebook Status
On May 10, 2013, we posted this update on Facebook, sharing a photo of a recently remodeled kitchen using our Rustic ceiling beams: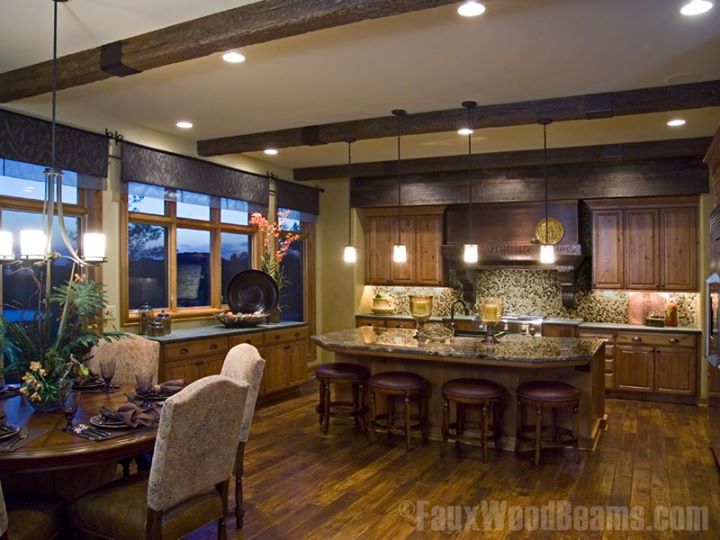 It's hard to go wrong when a kitchen has big windows and a great view. Lovers of wood adore this design. Our faux wood beams, accented by beam straps, keep the ceiling from being an overwhelming white.
Most Loved Product
With its rugged, natural look of real rough-hewn wood, many sizes to choose from and ready to ship fast, it's no wonder why the Timber Beam is such a fan favorite.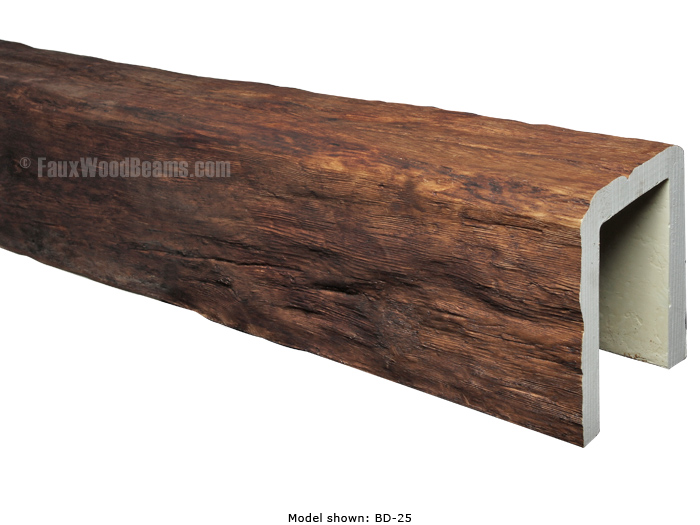 Awesome looking and Easy Install (Jan 29, 2013) These beams were a cinch to install and look amazing! - Jon Rhoades Spring Hill, KS
Love 'em (Mar 31, 2013) A budget saver on both material and labor, have fooled lots of people. - Jewel Box Homes
Beams (May 16, 2013) Once again you ladies and gentlemen have given a great product. My house looks fantastic, your customer service is the best I have ever dealt with. We still have people visiting and touching the beams because they look so much like the real thing. Thanks For Everything. A Very Happy Customer. - Patrick Dempster
Now we look forward to the upcoming year and are excited to see what it has in store. Wishing you and yours a Happy 2014!