At FauxWoodBeams.com, we're always impressed with the innovative and exciting ways our customers use our synthetic wood products. However Thomas W., from Benton, Arkansas, recently sent us pictures of what we believe might be a 'first' for our faux beams.
A New First for Synthetic Beams at Trinity Baptist Church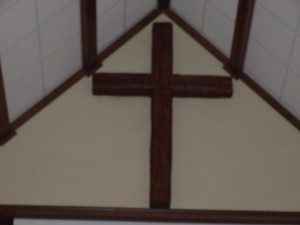 This shot shows the cross at Trinity Baptist Church installed; and you can see how vividly realistic it looks.
Trinity Baptist Church, in the town of Benton, Arkansas, is home to a family-oriented community that actively supports ministries and missions in the area.
We were honored that when they decided to build a cross for their church, they picked up the phone and called us to see if our faux wood beams might be a good option for them.
"After discussing my intention to build a Cross with your team," Trinity member Thomas wrote in his email, which included pictures of the project he masterminded, "it was mentioned that FauxWoodBeams.com couldn't recall a cross ever being fabricated before from your synthetic wood products."
"But your team was sure that it was possible - and I thank them for their patience and willingness to listen and suggest accordingly."
"After several conversations with your associate Jessica, she judiciously pointed out several different sections on your website that discussed installation procedures, and the tools required for them. They were easy to navigate and very descriptive - and based on what they said, here's the installation process for Trinity's new cross."
Thomas ordered two of our faux wood beams to serve as the cross-members for their cross.
"Upon receiving and inspecting the two beams, I measured the interior dimensions. I sized 2"x8" wood as mounting material, to match the interior of the beam. With the beams laid out on a table, I took painters tape and identified parts of the beam that would represent the vertical and horizontal parts of the Cross."
"Then, cutting 1 & 1/2" longer than I needed on the horizontal arms, I was able to sculpt the pieces to fit the beam temporarily together at a measured location and at ground level." Because our beams are made from durable but lightweight polyurethane foam, Thomas was able to cut them into shape using nothing more sophisticated than a regular wood saw.
"On the wall where the cross was going to be attached, I anchored three wooden mounting blocks - one on the top, one on the bottom, and one at the intersection where the two cross-members intersect. Finally, I added two more blocks on each of the horizontal sides of the cross."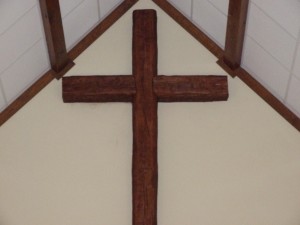 A closer shot reveals the vividly-rendered texture of the cross; which closely resembles real timber.
Because our faux wood beams are hollow - and feature a u-shaped channel inside them - they easily slot over mounting blocks and can then be secured with regular wood screws. One installed, they look absolutely flush with the wall.
"I placed blue tape along the sides of the wood anchors as suggested on the installation site. After dry fitting the vertical piece and lightly outlining the entire cross, I applied the adhesive to the wall and fitted the cross in place."
"After fastening the vertical beam with screws, I continued with attaching the horizontal pieces in the same manner. After fitting all the pieces together, I caulked the seams with the suggested colored caulk and was finished."
And the results, as you can see from the picture, look amazing.
Even more so than that, Thomas' finished cross looks absolutely identical to one made of real wood. Unless you actually climbed up to check, it would be impossible to tell this beautiful cross wasn't made from two pieces of real timber.
Thomas even writes: "The faux wood beams that I selected to make this cross were ordered 8 1/2" wide and 6 1/2" in depth, to replicate the size of wood that I thought might have been used at the Crucifixion."
If Thomas had used real wood of that size, it would have been prohibitively heavy; and incredibly difficult to install on the church wall. It certainly wouldn't have been a project one man could do alone, with the sort of tools any carpenter would have in their garage.
"The product was easy to work with and rigid enough to withstand light abuse," Thomas concludes. "I would recommend this product for a wide variety of projects and I highly recommend the staff at FauxWoodBeams.com."
Thank you for your kind words, Thomas - and for sharing these awesome pictures!