Check out this stunning upgrade done on a fireplace and its surrounding built-in shelving.
Fireplace and Built-In Shelving Get an Upgrade
One of the most popular uses for our panels is for fireplaces - and this one in particular blew us away. Created using Wellington Drystack panels, it's a truly stunning and innovative design and smartly-conceived usage of space.
Check out the \"before" picture and you'll see what the homeowners originally had to work with - a very nice fireplace corner featuring a built-in shelving unit perfect for a television, cable box, game system and other AV equipment.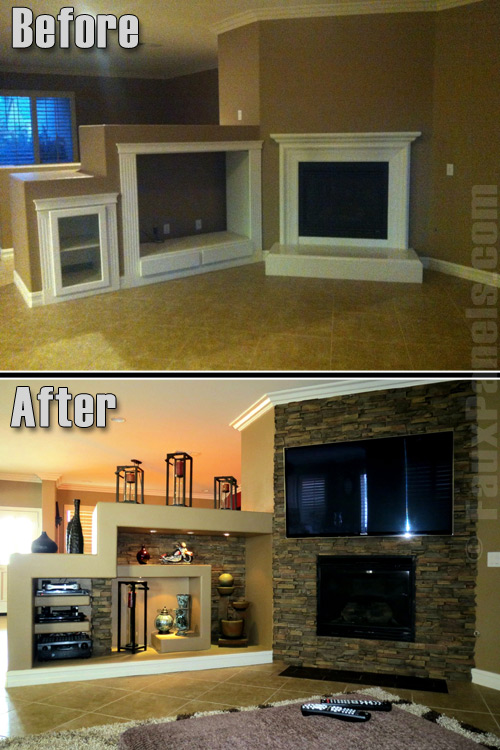 Before and After
But not satisfied with that, they took it to the next level.
The first thing they did was knock through the shelving space to create a single, open area. This worked because they planned to move the television from the custom-designed shelving area to above the fireplace (one of the huge advantages of today's flat-screen television technology.)
Once that was done, they tore off the molding from around the shelves and the fireplace itself - including getting rid of the fireplace stoop. It was replaced with a hand-finished plaster surround, which gave the impression of solid pieces of hand-molded concrete; very avant-garde and modern.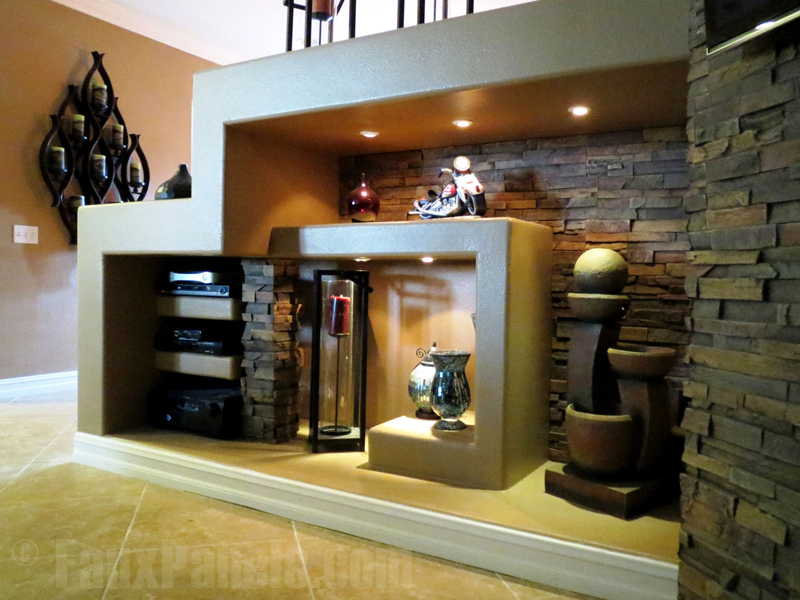 A close up of the shelving
The perfect contrast to that smooth finish was the Wellington panels. They were used to cover the front of the fireplace, and line the back of the shelving unit, to make it appear like the whole space was built from intricately hand-inlaid stone.
Installing the panels is easy - they attach directly to the existing drywall with regular construction adhesive and screws. The only added consideration with this project was cutting the panels to fit, so they slotted in perfectly to line the back of the shelving space.
Recessed lighting helped really complete the project; adding warmth and color.
That took careful measuring and solid carpentry skills - but fortunately the panels are made from polyurethane which can be cut to shape with a regular wood saw. They might look like real stone; but are infinitely easier to work with.
The panel extends around one edge, and that required some mitering skills to get right. Check out our guide to mitering corners for more information. You could also order a pre-molded corner and cut it to fit.
What completes the entire project is the attention to detail. To showcase the contents of the shelves, the designers incorporated recessed lighting - giving them a warm glow that mirrors the fireplace opposite. Once the television was installed above the fireplace - using the same screws and brackets you'd use in regular drywall - the project is complete and it looks amazing.
What do you think? Let us know in the comments below. And for more amazing photos, check out our Fireplaces Portfolio.