A DIY Accent Fireplace
Most of the fireplace design projects we see from customers are remodels. This week we're showcasing a fantastic fireplace built from scratch by Beverly and her husband from Kingston, Missouri.
\"We love our Fireplace," writes Beverly, "It's the central focal point of our home and everyone thinks it's real stone. When we explain to them it's really faux they have to touch it before they believe us!"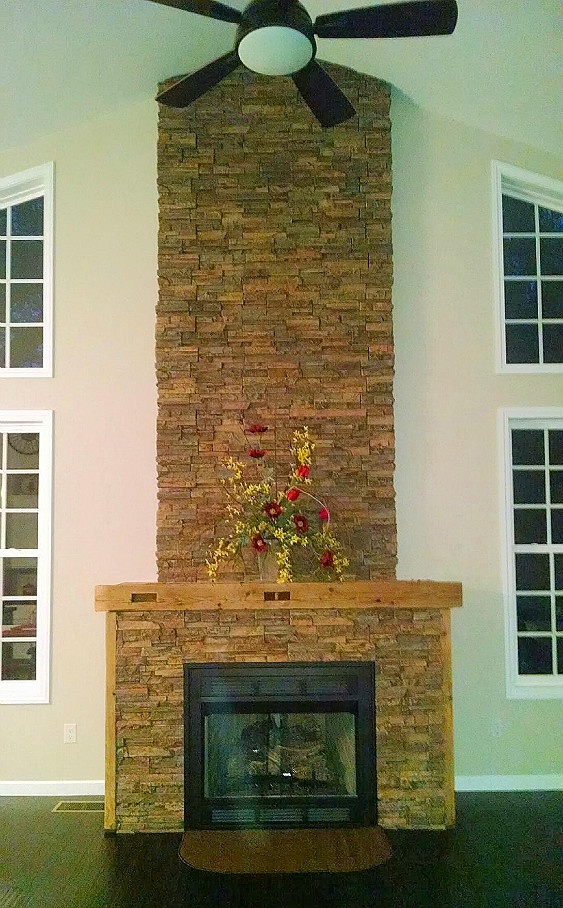 The final result
When Beverly and her husband decided to start this project, they didn't have any prior experience to work with - but thanks to the versatility and ease-of-installation of the panels, they didn't need it.
"We are a husband and wife DIY team - and definitely not professionals," Beverly writes. "We by using online software to draw a 3D model to get accurate dimensions and a "true look" to the fireplace before building."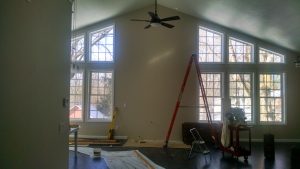 BEFORE: The wall prior to construction
"We then constructed a frame for our chimney out of composite panels to provide a base, and then covered that with the Wellington panels by screwing them onto the composite board."
You can install faux panels directly onto wood or drywall with screws or construction adhesive. Like giant jigsaw pieces, they actually slot together to ensure a seamless texture; and they can be cut to size with a regular wood saw, so no specialist carpentry skills or tools are needed.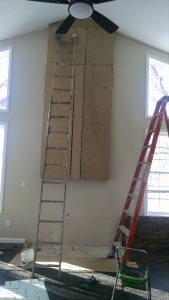 Continued work on the chimney frame
The only challenge is the corners - where one panels meets the other.
There are a variety of options here. Many of our customers elect to 'miter' the edges. That's when you cut a 45 degree angle at each edge and 'fold' the panel to maintain a seamless pattern.
While that's definitely within the scope of even the most basic home remodeler, there are easier options for a flawless corner - one of which Beverly chose.
"We were so glad we bought the corner pieces for the chimney," she writes.
Corner pieces are pre-molded 90 degree sections that simply attach over the corners of the panels - offering a seamless join and instantly covering where two panels would otherwise meet.
It's a different look than mitering - but just as beautiful, and even easier for the remodeler to get right.
Beverly continued: "We then built a frame for the fireplace and covered both sides with the panels. Next we boxed in the front of the fireplace and inserted our "vent free" fireplace. Finally, we covered the "box" with the faux panels."
"To give it more character," Beverly writes, "we used a 100 year old barn beam for the mantel and cut frame pieces from the same beam for the vertical corners. A finished flat oak board was the final piece used to complete the mantel. We are so pleased with the results!"
"We were so very pleased with our final project that we're going to continue to use the leftover panels for our back porch," Beverly signs off, "and purchase more to redo our front porch."
It looks like this was the start of a transformation for Beverly's home - and we hope she'll share more pictures as the projects continue!