It's a universal truth that wherever you go in the world – whether Dublin, New York, Hong Kong or Kuwait – you'll always find an Irish pub – somewhere to enjoy an ice-cold pint of Guinness. Now one of our DIY customers has taken that a step further – building their own basement bar, Irish style.
Irish-Style DIY Basement Bar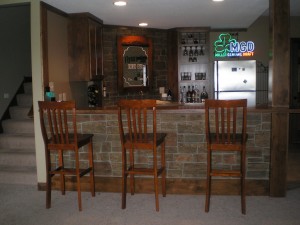 Flynn's Inn Irish Pub
With a name like Flynn, it should come as no surprise that Kathryn and her family come from good Irish stock.
To pay tribute to that heritage (and their fondness for a pint of the black stuff) she created an absolutely stunning family pub in their home's basement.
Featuring a full wet bar, fireplace and even boasting a deer's skull grinning at them from other the mantel, the interior of the new home bar, aptly named Flynn's Inn Irish Pub, wouldn't look out of place in some cobblestone side street of Cork or Londonderry.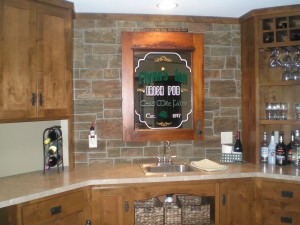 Bar sink backsplash with Ledgestone style panels
The mirror above the bar claims "Est. 1847" and to make that claim look almost believable, Kathryn and her family used Carlton Ledgestone panels throughout.
Kathryn writes: "I love the panels because they're easy to use, look real and can be removed without destroying the house if we ever change our minds."
Although that happening seems doubtful – we suspect this pub will be in business for a very long time to come.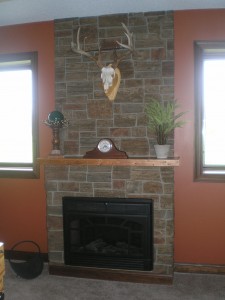 A beautiful fireplace, also framed with Carlton Ledgestone completes the family pub