One of our favorite things is getting pictures of our products 'in action' in people's homes and businesses. Today, we're sharing pictures from Kansas City, Missouri, where the panels gave an orthodontist's waiting room an awesome new makeover.
Dentist Gives His Waiting Room a Makeover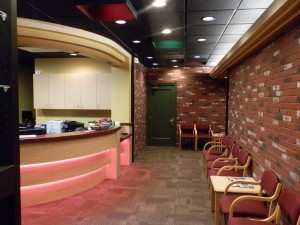 The look of brick gave the waiting room a unique and striking decor
Dr. Clarence Simmons is a popular orthodontist in Kansas City - and its not just dental veneers he has an eye for. When he recently updated his waiting room and reception area, he reached out to FauxPanels.com to help.
You can see the end result in the pictures Clarence emailed us - showcasing the panels he installed throughout the waiting room/reception area.
Truly unique, they give a very different look to his offices, rather than the usual, drab and pastel greys and green dentists seem to like.
Clarence writes: "I think the brick came out AWESOME!"
Our panels are molded directly from real brick walls - and the molding process perfectly captures every crack, chip and imperfection of the original article.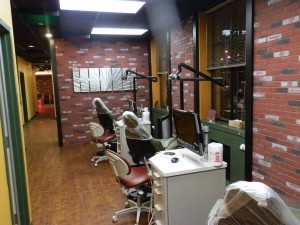 The texture is then vividly recreated in durable polyurethane foam; and intricately detailed to perfectly resemble the real thing.
The advantage of that, of course, is that our panels are flat, lightweight and cost a fraction of what real stone or brick veneer or finish would; and install directly onto existing drywall and walls with nothing but regular construction adhesive and screws. Designed to interlock like a jigsaw puzzle, getting a seamless finish is effortless.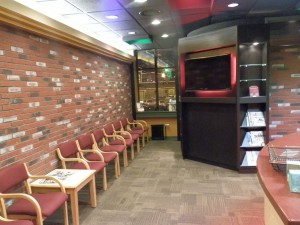 This angle shows how offsetting each row achieves a seamless, vividly realistic finish to the wall.
The final detail was to offset each subsequent row of panels, so the brick texture wasn't obviously repeated; making the brick look even more realistic.
But as man with an eye for detail, Clarence wasn't done once the panels were installed.
He writes: "Most brick is not paired up with stone. Usually Wood. As you can see in my pics, that's the look I went for. I had different corner pieces designed as black vertical beams, as the end pieces of my design."
A great accent piece, the end pieces really finish the design; and make his reception area a room worth waiting in!
What do you think? Let us know in the comments below.