Renew Room with the Ledgestone Panels
What can we learn from this classic episode of TV's Money Hunters?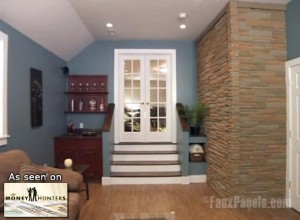 Rec room makeover with Ledgestone panels
Adding some extra square footage to your home doesn't have to be a challenge.
In this classic episode of the DIY Network's Money Hunters show, hosts Matt Blashaw and Deanne Bell helped turn a dank and dismal garage into a cool and comfy rec room; a makeover made easier with faux ledgestone panels.
The first challenge was the budget. As Matt explained: "We're turning a garage into a living room, so the budget could easily top $75,000." The problem? They only had $25,000 to spend.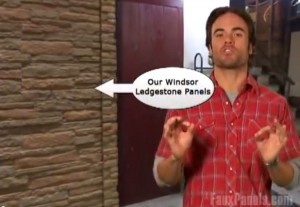 Matt planned to use ledgestone panels to give the appearance of a real stone accent wall.
So that's where our products helped out.
When Matt and Deanne planned to add a dry stack stone accent wall, they scrapped the idea of using real stone and instead selected our Windsor Ledgestone panels. At less than a third of the cost of real stone, and taking hours to install rather than days, the choice was a no-brainer.
Especially since the panels ended up looking just as good as the 'real thing' would have done.
Not to mention, Matt and his team were able to install them quickly and easily, with no specialist equipment or know-how.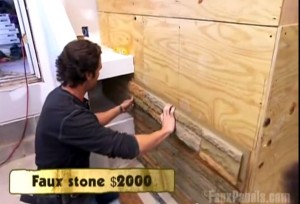 "This stuff goes on like flies to a wall of honey," joked host Matt, as he installed the panels.
Molded from high density polyurethane foam, the panels were easily cut to size with a regular circular saw, and could then be installed on the wall with screws and regular construction adhesive.
Great products helped ensure a great result - and if you watch the accompanying video, you'll be stoked to see just how good the panels look in this fantastic room conversion.