There's nothing more classically American than a Franklin stove - and our panels helped build the perfect showcase for this one.
Building a Wood Stove Platform with Dry Stack Stone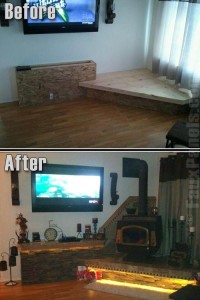 Before and after - the finished product looks amazing.
It was Benjamin Franklin, one of the fathers of our country, who invented the enclosed fireplace we know as a "stove." And today, millions of Americans have stoves in their home - one of the first, and most famous, innovations to be proudly labeled "made in America."
We were recently sent photos of a project one of our customers completed, in which he chose to add a stove to his modern home. But while the mechanics of installation were simple enough, a traditional cast-iron stove looked totally out of place in the corner of his modern living room.
One solution would be to create a stacked stone hearth to keep the stove on; built with real stone slabs that absorb and radiate the heat from the stove itself. However, that would be incredibly labor-intensive and expensive; requiring thousands of dollars worth of material, expert stone-working skills and days or even weeks of labor.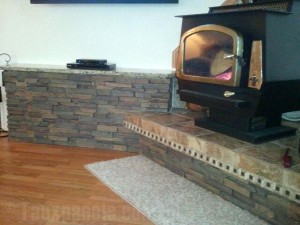 This close up reveals just how perfectly the panels mimic the look and texture of real stone.
Fortunately, we were able to offer a cost-effective alternative that didn't compromise on looks. Using Wellington Drystack panels in earth shades, the enterprising homeowner built a gorgeous stove platform, beginning with a simple wood frame.
The result? As you can tell from these pictures, it looks as robust and timeless as any authentic stone platform would - but took just hours to install, instead of days.
Even better, the panels are molded out of durable polyurethane foam, which means cutting them to shape and size required only basic carpentry skills, and regular tools that most people have in their garage - like a basic wood saw.
And even better -- and particularly well-suited for use near a stove or fireplace - many of our products can be ordered fire-rated; offering additional peace-of-mind and another reason why "going faux" is such a smart move.