New Look with the Faux Wood Panel
One of the things people frequently say about our faux panels is that they're 'better than the real thing.' In terms of cost, ease of installation and looks, there are a lot of factual reasons to back that up. But what other advantages does 'going faux' bring?
Wood.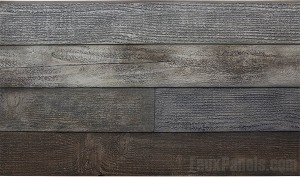 Barnwood style panels are vividly realistic, and truly resemble vintage reclaimed wood.
For a millennium, it's been man's go-to building material. It's been used to build castles, battleships and airplanes; and high-end manufacturers still use it today in car interiors, fine homes and other places where the desire for class and style overrides the affordability and practicality of using plastic.
Getting this stylish and timeless look of is one of the reasons why many of our customers choose our wood look panels. They're affordable, easy-to-install and look just as good as the real thing.
But are there additional advantages?
In terms of where you can use the panels, the answer is a resounding 'yes'. In the past, wood was used in parts of the house like a kitchen or bathroom because of neccessity. Today, better materials exist, so choosing wood is a stylistic choice rather than a practical one; and can present a number of issues to contend with.
For a start, wood is porous. And while is can be sealed and varnished, the presence of moisture will almost inevitably cause wood to eventually warp, discolor or crack.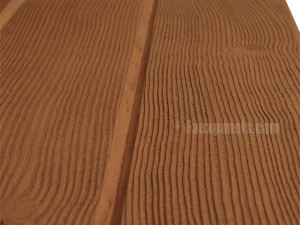 Right down to the individual grains, our 'Woodland' range resembles authentic timber planking
Secondly, once sealed wood has been compromised, it can harbor mold and bacteria, which is both ugly and unhygenic. It's also impossible to stop the advance of rot; meaning the wood will eventually have to be replaced.
This is why choosing faux, rather than real wood, presents an advantage. The panels are made from high density polyurethane foam, which is a 'closed cell' foam and impervious to moisture. As a backsplash, or in the bathroom, the panels will remain absolutely waterproof for decades; never cracking, discoloring or attracting mold.
And yet, they will also always look like real wood; complete with vivid textures molded from authentic timber or bamboo, and colored perfectly to match real wood hues.
All those advantages, without having to compromise on looks. That sounds like a pretty good argument for "better than the real thing"..