Abby K., of Belle Mead, NJ, recently sent us these awesome pictures showing how they'd used our faux wood beams to transform their basement into an incredible wine cellar.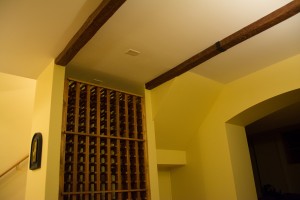 AFTER: Our faux wood beams add a truly timeless look to this wine niche.
Wine Cellar Gets a Vintage Makeover with Faux Wood Beams
Wine is of the ages - with the age of each bottle an important part of its character and value. That's why people take storing wine so seriously; investing in temperature-controlled and humidified wine cellars designed to perfectly preserve and age each bottle.
But an age-old appreciation for wine in a modern home isn't always an easy combination; which is why when this family decided to dedicate part of their beautiful home to their wine collection, they wanted it to look the part as well as provide the perfect environment for their collection of rare vintages.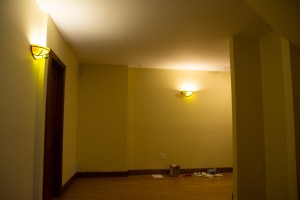 BEFORE: The modern-looking features are a poor match with a wine cellar concept.
This is where our false beams and synthetic wood products came into play - offering an affordable and practical way to add a timeless, wine-cellar look to a modern home.
"Attached are before and after photos of our wine niche, which is still a work in progress," Abby writes us. "We love - LOVE! - our faux timber beams, which give the space a warmth and capture the rustic wine cellar look we were trying to achieve."
As you can see from the photos, the whole project turned out great.
AFTER: Another shot demonstrating how the faux wood beams matched the existing wooden features.
"The beams were easy to install," writes Abby, "and we were even able to adjust for a tricky ceiling by notching one beam as shown in the photo. The beams look so real -- even down to the faux "metal" strap -- that our friends are amazed when we tell them they are faux! Thank you for providing a fabulous product."
We think the wine niche project looks amazing - but what do you think? Let us know in the comments section below!