This white brick fireplace looks so realistic, even we did a double-take when we saw the pictures.
Realism is one of the defining characteristics of our faux stone, brick and wood panels. This is because we design them using molds taken from natural materials - capturing every tiny three-dimensional detail from real aged timbers, authentic stone walls and genuine, vintage brick face.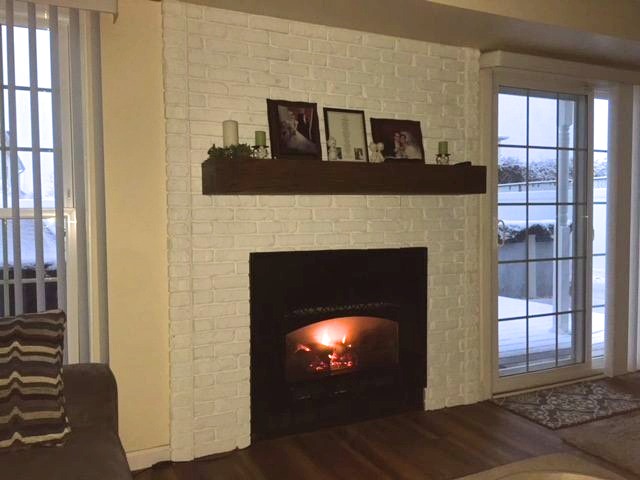 AFTER
These stunning textures are recreated using an innovative injection molding process that creates perfect copies in high-density polyurethane foam. The result is a flat, lightweight and versatile panel that features the same texture as the original material; and can be colored, cut and customized almost without limit.
But just how realistic are the panels? It's a question we get asked time and again, and despite the dozens of pictures we feature on our website and blog, customers still express their amazement when they see the product firsthand.
But even we get blown away sometimes, most recently by these photos of a DIY fireplace build sent to us by customer Allan Helale.
Allan used Old Chicago Brick panels in Glacier white to create a beautiful fireplace -- his eye for detail and perfect installation making it all that much more realistic.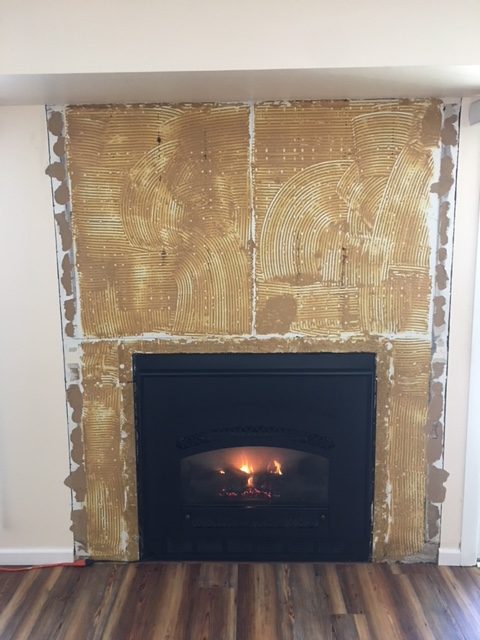 BEFORE: Allan's project started off with bare drywall.
Allan originally had no fireplace at all - just a section of regular drywall with a recessed wood-burning stove built in. He began the project by carefully planning out a design based on authentic vintage brick fireplaces - which tend to be flush with the wall to preserve the maximum amount of floor space in the room.
Allan stripped and prepped the drywall, and installed the panels directly to the flat wall surface with construction adhesive. So far, so good. The most complicated step was cutting the panels to fit around the recessed stove, and to fit flush with the top of the ceiling.
But then Allan took it a step further. His research revealed that most period fireplaces have raised edges , so Allan recreated these by doubling up the faux brick. It was easy enough to cut strips from the left-over panel material, and install them appropriately.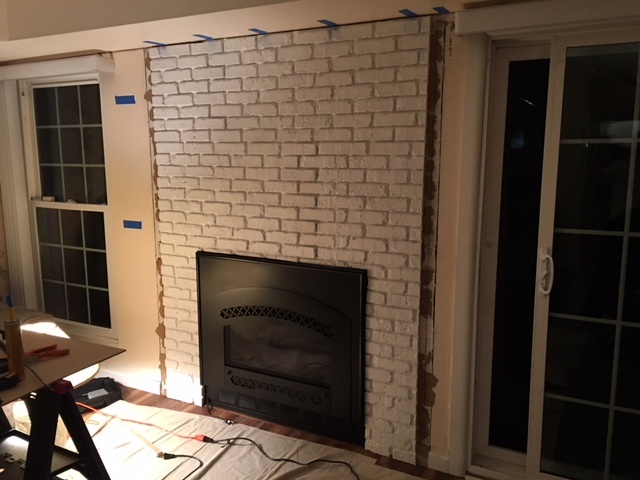 Allan cut the panels to fit around the recessed fireplace.
It's a small, very subtle detail - but as you can see from the pictures, made a massive difference. It perfectly mimicked how a real brick fireplace built decades ago would look.
Allan continued this theme by running the panels all the way from floor to ceiling - another detail that was congruent with period fireplaces. The final touch was to add a faux wood mantel to the fireplace - drilling mounting blocks into the framing studs, directly through the panels.
The final details were to add the edges and the faux wood mantel.
With these few, subtle steps Allan created a fireplace that fit perfectly with the style of his home, and was so expertly-installed that it looks like an original part of the house.
It's a truly remarkable project - a testament to the philosophy of 'less is more' and a real example of how something can be elegant in its simplicity. We're thrilled to feature it here to serve as great inspiration for other homeowners who want to use our panels for similar projects.