Over the decades that we've been selling faux panels and siding solutions to home and business owners, we've accumulated a wealth of do-it-yourself, remodeling and renovation knowledge – most importantly from our own customers' feedback, design ideas, project stories and more.
The mission of this blog is to share this knowledge with you, in the forms of DIY tips, home makeover stories, design inspiration and more. We also welcome your input, as we've found our best source of information comes from our customers' experiences and know-how as they've installed faux products in their homes or place of business.
Over the years, we're continually surprised and amazed at some of the ideas people have come up with as they incorporate faux panels into their design projects. Take a look at the photo below – a customer used faux panels and installed them beautifully both as siding and the two front columns guarding the entranceway.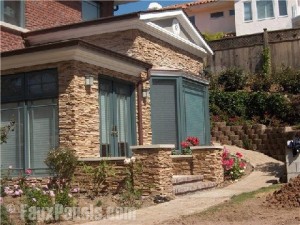 With this blog, we hope you readers will benefit from this gathering of expertise and hopefully contribute your own ideas!
Blog Plans
One fun weekly installment we plan to include in this blog will be called "Makeover Monday." Keep checking back every week to see the new "Makeover" post. If you have do-it-yourself tips, project ideas, a personal story or anything makeover related, we'd love you to send it in. Don't forget to include before and after photos if you have them!
Don't Forget to Comment!
We are always happy to hear from you. Start a conversation with us or another reader, submit a suggestion, share your story or a design tip – the sky's the limit! Add a comment to a particular post or e-mail us at info@fauxpanels.com.
Be a Faux Panels Guest Star
We want to keep things interesting and our writers diverse, so we'll be looking for guest bloggers to write posts. If you have a home improvement experience, design idea, how-to instructions or even just a list of tips, we'd love the opportunity to read and maybe post them. Then you can brag to all your friends that you write for the Faux Panels blog. Submit your posts to info@fauxpanels.com.