Take any ordinary wall inside or outside your home to the next level with the addition of viga tails. A viga is a long, rounded wood beam that is often seen jutting out from the sides of a home. A viga tail is what you see protruding from the surface of a wall.
Known as a signature of Southwestern and Mediterranean architecture, viga tails were originally used for structural support, but can also be purely for decoration.
Viga tails are most often found on a home's exterior and are ideal for enhancing basic stucco walls. Because real wood viga tails are exposed 24/7 to extreme temperatures, UV rays, and pests—they get damaged and have to be replaced often.
So for you as the homeowner, replacing them is time-consuming and expensive. However, unlike real wood vigas, faux wood vigas are resistant to pests, sun damage, and rot—giving you a maintenance-free way to repair your old, damaged vigas.
Solid replacement faux viga tails are available in several sizes and finishes to suit your home's personality. All finishes, including an unfinished option and the option to create a custom finish, are available in both "tree barked" and "debarked" textures. Both options have the same texture and appearance of real, natural wood viga tails.
Keep reading to learn how faux viga tails add dimension and Southwestern distinction to your home!
Faux Wood Viga Tails Bring Southwestern Flair to Any Home
Viga tails aren't just for your home's exterior—they make a great addition to your home's interior too! With faux viga tails, you'll save a lot of time and cash by either installing them for the first time or by replacing old, worn vigas with faux ones.
With their natural look and texture, faux viga tails refresh your home with a product that will last for decades to come.
Viga Tails on the Interior of Your Home
Are you looking to bring a slice of the Southwest to your home?
Install faux viga tails down your hallways to create the illusion that they are a part of a full viga support system.
To add interest to any room in your home, install faux wood vigas on the walls. They'll liven up any bland surface and are great for indoor use!
Viga Tails on the Exterior of Your Home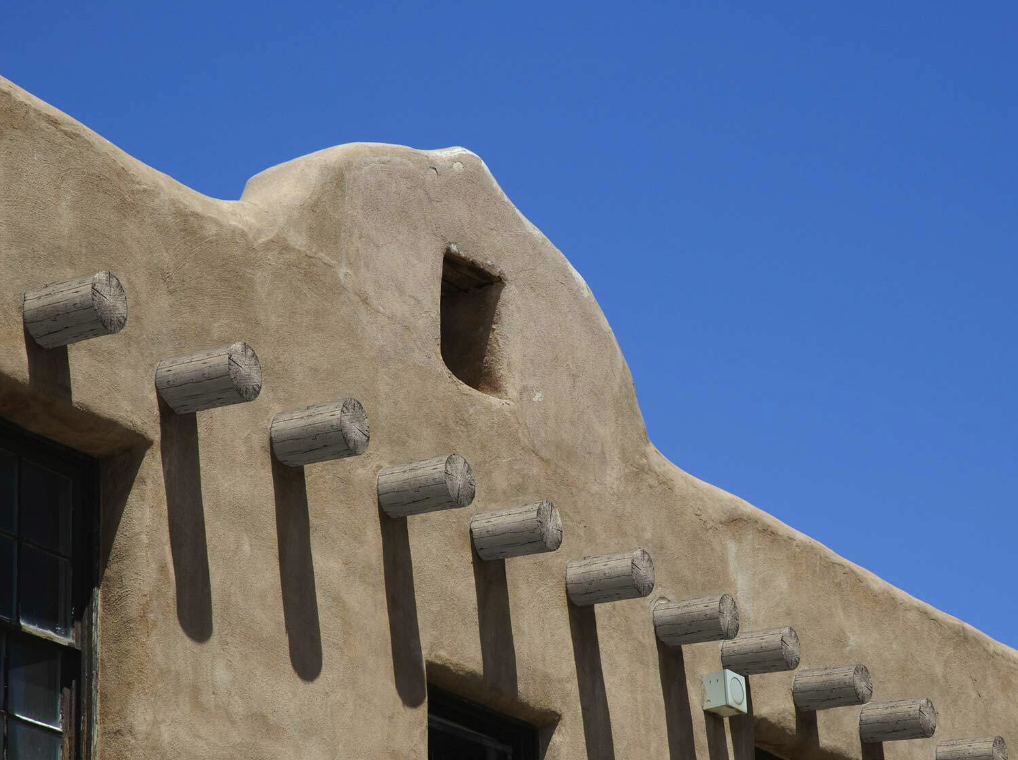 Faux viga tails bring Southwestern style to the exterior of your home, no matter where you live.
Install faux wood vigas along the top of your home's exterior walls, below the roofline, for an instant boost of curb appeal.
Complete the look with faux wood vigas installed along the top of your back porch overhang.
Pictured below: Faux wood vigas are perfect for replacing your worn and damaged wood vigas. Plus, they'll last a lot longer!

Choosing the Right Viga Tail to Match Your Home's Personality
Whether you're building a new home and looking to add a Southwest-style feature, or are replacing your existing, damaged vigas—selecting the right color and texture is important!
In addition to six finishes and custom color options, solid faux viga tails are also available in two realistic wood textures: " tree barked" and "debarked." Tree Barked viga tails have the same look and texture as a tree with the bark still attached. Debarked vigas have the same appearance and feel as a piece of wood with the bark removed.
Because they're made of polystyrene and then covered in molded plaster, solid viga tails are built to last.
Solid vigas are installed by drilling a hole down the middle of the viga, then fitting it over a threaded rod installed on the side of your home. If you have existing, damaged real wood vigas, faux vigas are the perfect product to replace them.

Solid faux wood vigas
Benefits of Using Faux vs. Real Wood Viga Tails on Your Home
Remove the stress of maintaining and repairing your old wood vigas by installing faux wood vigas instead.
Faux wood vigas are a more affordable product than real wood vigas. Install them yourself to save even more money.
For a quick and easy home update, you can even install faux vigas right over the top of your old, damaged ones.
Because they are resistant to sun damage and decay, faux viga tails outlast real wood ones and require no maintenance.
The craftsmanship of faux wood vigas is unmatched! The process of creating a faux viga, using molds of real logs, leaves you with a completely natural-looking product that keeps its real wood aesthetic for years to come.
To suit the character of your home, faux viga tails are available in a wide variety of beautiful finishes as well as custom colors and sizes.
Maintaining and repairing real wood viga tails is an expensive, time-consuming job. So why not invite some charming, Southwestern flair to your home by installing faux wood viga tails to any interior or exterior surface? Faux viga tails have the same look and beautiful texture as real ones do—without all of the upkeep.
Click below to explore all of the attractive finishes on our faux wood viga tails!