Vaulted Ceilings with Exposed Beams
The secret to success with our beams is to mimic the design style real architects would use. Here's a quick guide to what that means for those looking to add them to a vaulted ceiling.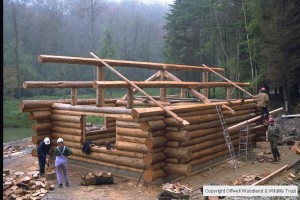 This real log cabin shows how an authentic beam-supported roof would look.
Faux beams are an affordable and easy way to add timeless character to your home - by mimicking the look of authentic wooden beams.
But the true secret to success in a faux wood project is to make sure that the way you install your beams is in keeping with how real timber would have been used to support a ceiling of that shape.
Gabled roofing presents one of the core challenges for beam installation - and before you make your purchase it's important to do some research into how they should be placed to look 'right'.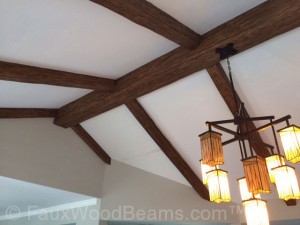 This design makes it appear like the supporting beams are exposed, including the main beam running along the apex of the roof.
A good place to start is to research how historic homes with your style of ceiling would have been built. Today, with lightweight materials and advanced design techniques, there's no reason to have real exposed beams in your vaulted or cathedral style roof - in fact, that's why you have to add faux beams! But years ago, when home building was a less exact science, beams weren't just there to look good - they served a vital structural purpose.
Looking up how people design log cabins serves as a good guide to how wooden beams should look; as log cabin design really hasn't changed much since the days of America's pioneers. Normally sturdy wooden beams would crisscross into the a-shaped apex, and supporting beams would run inside or outside of them to support the roof.
For the owners of those homes, they'd then have to choose whether to expose some or all of those beams when they design the interior ceiling.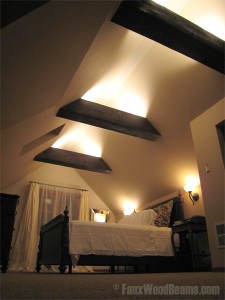 These crisscrossing beams resemble supporting cross-members, and give the illusion that the rest of the beams are hidden beneath the plaster.
For our customers, that means you can choose to install your beams lengthways, like the interior supporting beams that the roof would be attached to, or up and down, like the structural beams of the roof instead. Alternatively, you can simply add the intersecting beams, as if the supporting structures themselves were covered up.
There really are almost limitless choices you can make - but it's important to always start from the concept of where a real wood beam would go. That's the difference between a ceiling that looks utterly seamless, and one that doesn't quite look right.
You can see ceilings 'done right' in our galleries of customer pictures - and use them as inspiration for your own design!