The foundation of your home contributes to its overall curb appeal in a big way. An exposed cinder block foundation, wrapped around your entire home is a major eyesore that is impossible to not notice. Exterior paint and landscaping can disguise an ugly foundation, but each of those is susceptible to chipping, staining, and cracking, leaving you with more work to do.
Stone veneer panels drastically improve the appearance of your home's foundation, without the threat of damage from outdoor elements and pests. Almost indistinguishable from real stone, stone veneer foundations are a lot easier to install and maintain. Even better? They come with a much smaller price tag.
Why Stone Veneer Foundation Is Ideal for Your Home Upgrade
There are several reasons to use stone veneer panels to add beauty and charm to your home's unsightly foundation:
Stone veneer panels are expertly crafted using molds of real stone to perfectly mimic the same natural look and texture.
They are built to withstand outdoor elements like rain, extreme temperatures, and pests.
Real stone requires sealing and regular scrubbing to maintain its color. Stone veneer foundations are low maintenance and can be cleaned with a damp cloth as needed.
The natural-looking colors and added texture of stone paneling can help camouflage stains from rain or dirt.
Stone veneer paneling is lightweight and is easily lifted and installed by just one or two people.
Unlike real stone, stone veneer panels can be installed quickly, using basic carpentry skills and tools.
Stone veneer panels have a beauty that is more than skin deep. They also have insulation properties, adding an extra layer of protection to your home.
Installing a Stone Veneer Foundation is Fast and Easy
A beautiful stone veneer foundation is undoubtedly a more attractive option compared to your basic, drab foundation wall. Even more, installing stone veneer paneling requires no complex construction knowledge or skills. In fact, stone paneling can be installed over masonry by simply using an adhesive.
Aside from stone veneer panels, faux stone exterior siding provides another option for upgrading your home's foundation. While stone veneer paneling is made from durable polyurethane, and can be installed using an adhesive, faux stone exterior siding is made from molded polypropylene and must be installed using starter strips and masonry screws.
In the case of customer Ken Niles, from Ontario, there were both cosmetic and practical reasons why only faux stone foundation veneer would do the trick for his home.
"I've attached before and after pictures of a small project that I did using your Novik Dry Stack siding panels. My foundation had, in its past, some oily residue from either a wood preservative or some type of insecticide placed on its surface. This prevented any type of masonry coating from adhering to the surface."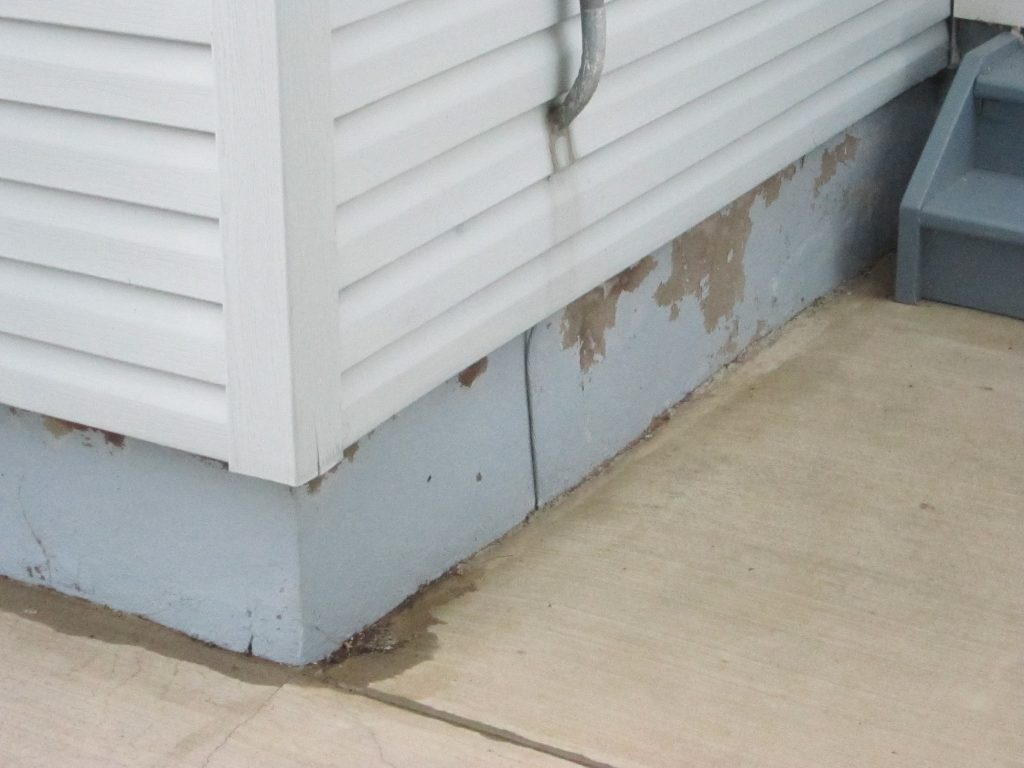 BEFORE: The ugly oily spill made paint and adhesive useless.
AFTER: Because our siding is screwed into the wall, there's nothing that can stop it from adhering securely
As you can see from the before photo above, the oily residue left Ken's wall looking damaged and dirty. And, nothing he tried using successfully concealed it.
"After many attempts at painting or coating this wall over the years I decided to try putting a faux stone face on this wall. After an internet search I found your website and have been very happy with your products and the customer service that I received from your staff. These siding panels were installed by using treated furring strips tapconned onto the wall."
Faux stone siding is made from molded polypropylene – but installs just like regular siding. That allowed Ken to screw the starter strips into the masonry of his wall, without relying on adhesive. As a result, even the oily slick mess didn't prevent the panels from staying put on the original wall – and looking fantastic.
Selecting the Right Foundation Veneer for Your Home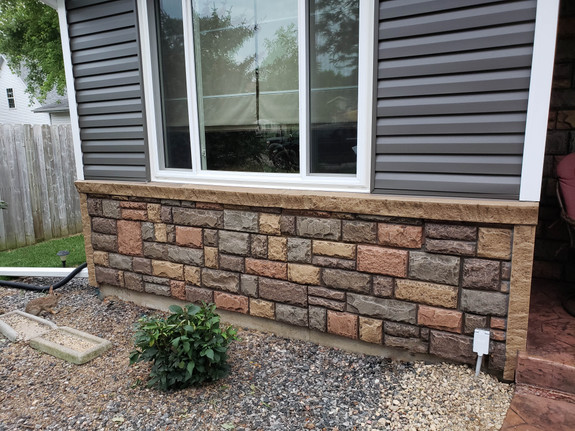 Choosing the right stone veneer paneling or siding for your foundation project is incredibly important. First, consider what impression you want your home to make. After making your selection, be sure to choose the color that best suits your home's personality and its surrounding landscape.
Popular Colorado Dry Stack stone veneer panels create the same appearance as a natural stacked stone and are available in 12 bold color varieties. With that many natural and contemporary tones, finding a hue to match your home's aesthetic is easy!
For offbeat charm and timeless elegance, Hampton Cobblestone panels mimic the rugged interlocking of cobblestone slabs. Like every other stone veneer panel, cobblestone panels are ideal for exterior use.
Another show-stopping option is the Regal Chiseled Stone veneer panel. With five earthy shades to choose from, you'll transform your home's foundation into a beautiful feature that lasts a lifetime.
Anson Fieldstone is a versatile building material that can be used for both interior and exterior design. With its natural look and feel, Anson Fieldstone can add a rustic and earthy aesthetic to any space. Its durability and resistance to wear and tear make it an ideal choice for exterior applications such as wall cladding, garden features, and outdoor fireplaces
You can easily and affordably add the warmth and texture of stone to your foundation with stone veneer panels and siding. Installation is a simple job that you can do yourself, without the need to hire a professional. When you're finished, your stone veneer foundation will mimic the look of natural stone, but offer low maintenance, durability, and beauty for decades to come.
Click below to view more faux panel products that can transform any space inside or outside of your home!