Does your home have wainscoting? This type of wooden paneling was traditionally installed as a functional barrier to moisture and cold, but nowadays, its purpose is primarily decorative. Wainscoting has a timeless feel that complements many styles, from traditional to farmhouse. It can make a large room feel cozier, and a small room feel more spacious and interesting. If you like your home's wainscoting but want to update its style, consider upgrading with stacked stone panels.
Updated Style With Stacked Stone Panels
Stacked stone panels are a dynamic way to preserve the classic feel of wainscoting while introducing a modern twist. Stacked stone veneer works for both interior and exterior design projects. Choose from a variety of colors to suit your home's aesthetic.Darker panels work well in living spaces with a modern and industrial style, for example, while lighter panels coordinate well with boho and natural elements. No matter which look you choose, your wainscoting will be an eye-catching conversation starter.
Stone panels are also perfect for covering up old wainscoting. Lightweight and easy to install without any special tools or masonry expertise, faux stone panels can be used to cover old panels and change the look of your home in as little as one weekend. Once installed, you can be certain that this maintenance-free material will look just as impressive for years to come as it does on the day it's installed!
Customer Project Highlight: Updating Old Wainscoting
Looking for inspiration? While we've posted pictures of some epic panel projects, we still believe that there's merit to the "less is more" philosophy. That's why we love this project. (Thanks to a customer from Hazel Green, Alabama, for these photos!)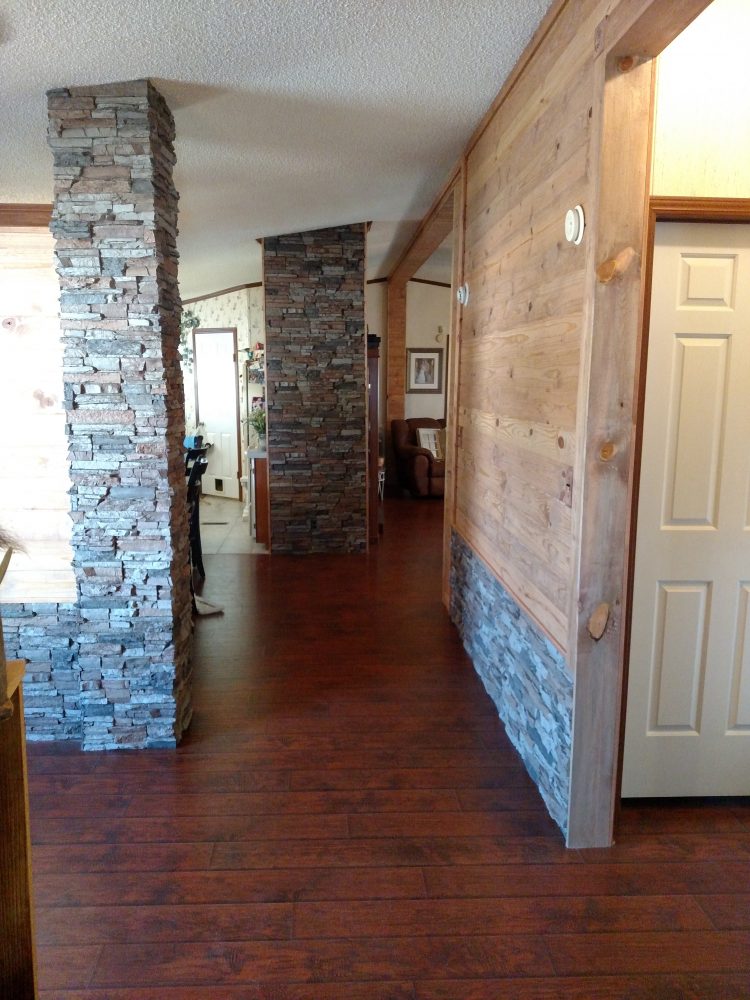 This shot offers a great view of the entire project.
This customer's beautiful, roomy home was originally designed with a two-tone pattern: white walls with dark wood wainscoting. While this was nice enough, the owners wanted something different, and that's where Barron Designs came in. They ordered our Norwich Stacked Stone panels in Motley Gray to go on top of the existing wainscoting and covered the rest of the walls with pine planks. While these specific panels are no longer available, we have many other gorgeous options to choose from on our website.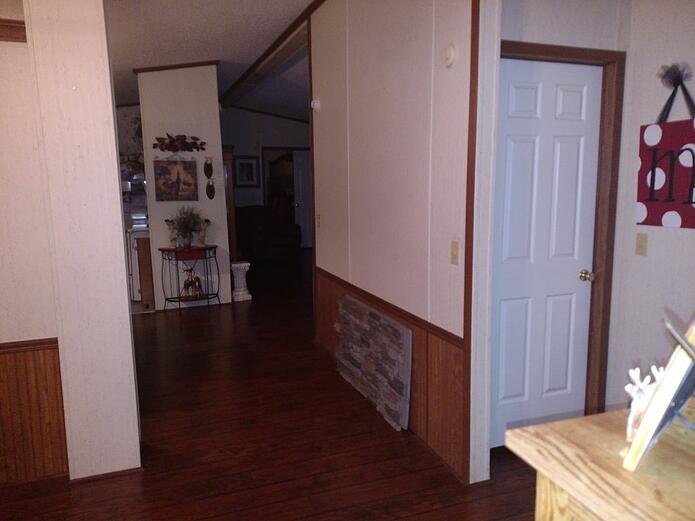 Before: While nice enough, the room lacked pizzazz.
In theory, the homeowners could have used real stone, or stone components, but they were probably glad they didn't. These panels are perfect for the task and demonstrate many of the biggest advantages of "going faux."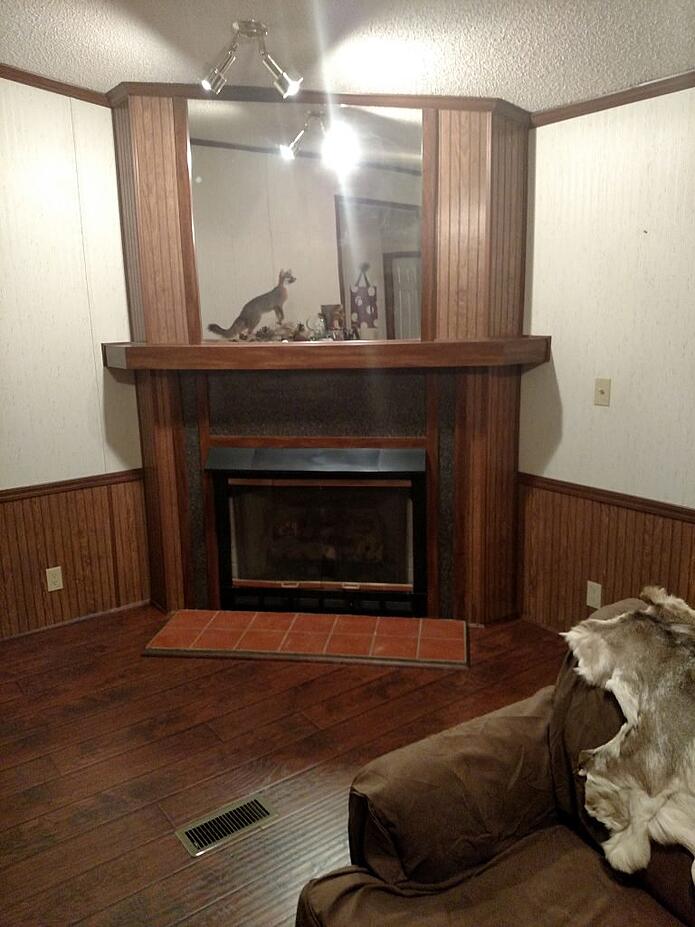 Before: The dark wood wainscoting looked old-fashioned and dated.
The existing brown wood wainscoting didn't need to be touched. The panels were installed easily on top of it using screws and regular construction adhesive. Because the panels slot together, almost like a jigsaw puzzle, it was simple to create a seamless stonework pattern that looks remarkably realistic.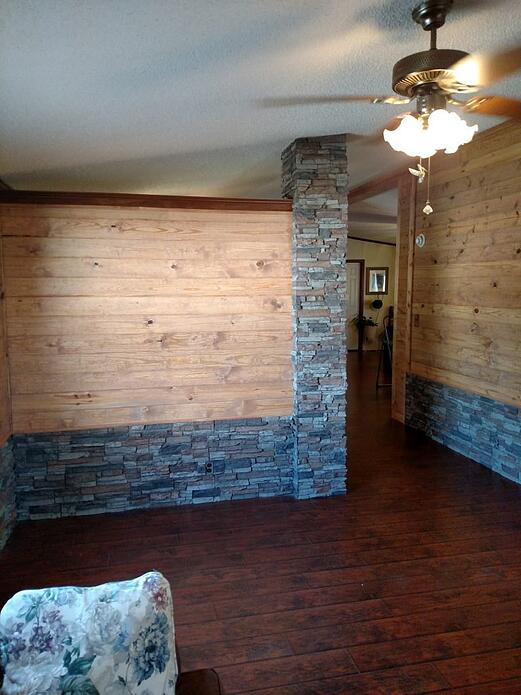 After: Cut to size, the panels perfectly complement the new wood walls.
The project required a lot of measuring and cutting to get the panels to fit just right. Once again, that's where faux stone panels offer an advantage. Because they're molded from high-density polyurethane foam, the panels can be cut to size with a regular wood saw, meaning no special tools or expertise was required to get the right fit.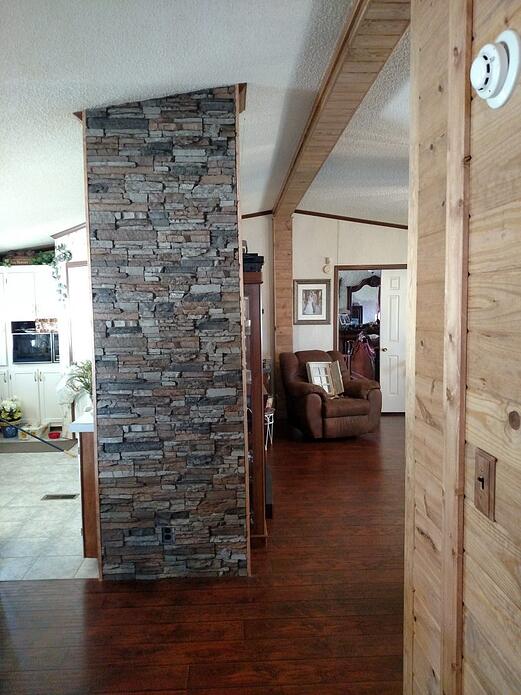 The panels look great on the support columns as well!
Most importantly, they look great. After cutting and installing, the panels look beautiful and realistic. Even up close, it's difficult to tell that they're not authentic stone. That's one of the factors that makes them such an awesome choice for a project like this.
Bring Your Vision to Life With Barron Designs
Because of faux panels' versatility, you can customize to match your home's design and get the look that you want. You don't have to choose from just our stone, either; our panels come in a wide range of colors and styles in faux faux stone, wood and brick. Wainscoting can be made from any of these materials. Use brick paneling at a two-thirds height in your entryway to create a fun, modern vibe, or completely cover your dining room walls with wood paneling to achieve a formal, five-star restaurant feel.
If you have any questions about our panels or want help deciding on the best options for your project, we are happy to help. Our team of experts can support you from planning to installation. Simply contact us.
What do you think of this featured project? The stone is a big improvement over the dark wood, isn't it? Share your opinion with us in the comments section below.