These unique mailbox posts that beautifully mimic real stone make a great addition to a front yard.
Special Delivery with Faux for Unique Mailboxes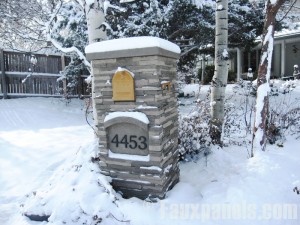 Soggy letters, waterlogged packages and dripping envelopes are the last thing you want to find in your mailbox – which is why many homeowners want to invest in a letter depository that lives up to the unofficial creed of the United States Postal Service; vulnerable to neither "snow, nor rain, nor heat, nor gloom of night."
A popular choice is a mailbox post made from faux stone or brick. Molded from the same patterns as our popular panels, these tough and durable columns feature a built-in mailbox and a panel to display your house number or name.
Available in several different styles from brick to slate stone, you're sure to find one that perfectly complements your home's exterior - creating instant uniformity; and the impression that your mailbox has been standing proud just as long as your home has.
These mailboxes differ from our regular columns in a couple of subtle, but important ways.
For a start, they feature a hinged mailbox built right into the column; for a safe and secure place for your mail man to leave your letters without them getting blown away, or soaked by rain.
Secondly, a large flat space underneath the mailbox gives you the flexibility to add your own house name or number. You can screw regular numbers straight into the tough, durable polyurethane.
And finally, the columns feature a subtle solar panel on the roof; lighting up the column at night so guests will be able to see your house number clearly when they come calling (and your mailman will be able to find your box even on his early morning rounds.)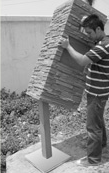 These posts are easy to install. They're designed to fit over a standard 4" x 4" fencepost, which you can cement into the ground for stability. Screw the base assembly onto a bottom ring, which drops straight over the fencepost, and you're in business. Here you can find easy-to-follow instructions for installing our mailboxes.
One final advantage? In addition to being infinitely cheaper than building your own real stone version, these mailbox posts are built to federal crash regulations. That can actually lower your insurance liability, as each mailbox is less likely to cause injury or damage if somebody drives into it.
Take a look at some of the pictures from our galleries page and see for yourself how great they look.