Inspired by the domestic architecture in 16th Century England, Tudor Revival homes have been popular in cities and suburbs in the United States since the early 20th Century. Probably the most noticeable feature shared by these homes is the half-timbering design that decorates the exteriors, as you can see in the photo below.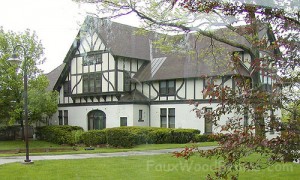 Tudor Revival Homes Featuring Faux Planking
These wooden half-timbers that distinguish Tudor-style homes bestow a rustic, romantic look, and add a unique and stately charm. One thing many people don't realize, however, is that these real wood planks only last between three and five years before they rot and peel.
Homeowners who experience the deterioration of the wood on their home's exterior normally choose to just replace them with real wood. While doing that ensures the homes will look the same as they did before, it also ensures that the new planks will rot and peel in three to five years, just like the old ones did.
Considering the above, using actual wood to fashion a Tudor-style home involves an extra amount of maintenance and attention over time, in addition to expenses.
If you own this style of home, using faux wood planks to replace the half-timbers on its exterior will ensure that you'll be spared the hassle of replacement every few years.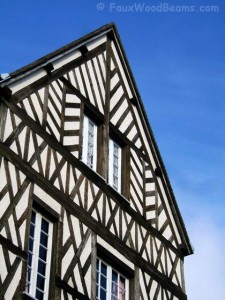 Faux wood planking for the exterior decoration of Tudor revival homes is long lasting and maintenance free.
Made of high-quality polyurethane, the planks are affordable and extremely durable, and last for 20 years or more, with little need for maintenance.
Just like our other products, the planks are completely waterproof, and built to withstand extremes in weather and temperature. They also resist termites and other wood-damaging pests.
Crafted from a mold made of actual wood, the same details, ridges and texture are brought to every plank. As a result, they possess the realistic look and feel of real wood. They're also very light in weight, making them easy to install.
Customers of ours who have replaced their half-timbers with our planks have demonstrated how easy it is to do, too. The process simply involves removing the old wood and nails, reshaping the replacement planks with a basic saw, painting them and installing them with nails and construction glue.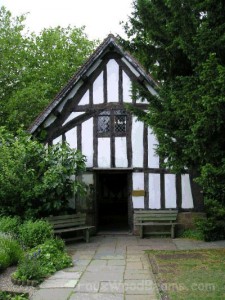 In the end, going faux will save you time, labor, and money.
Could your Tudor use an easy, affordable facelift?
Take a look at our Plank Design Ideas page for some insights!