We always love getting "before" and "after" photos from our customers - and these ones are especially awesome!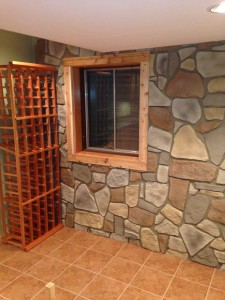 AFTER: This shot shows how fantastic the panels look, cut to surround the basement window.
DIY Wet Bar Basement Transformation
Sent by William E., of Cary, Illinois, they showcase his DIY prowess - using Fieldstone and Cobblestone panels to turn his basement into a magnificent wet bar.
Drab, bare walls and low light are generally a pretty uninspiring combination, which is why William was looking to liven things up with the panels.
The Fieldstone and Cobblestone styles resemble large, stone construction blocks and that vivid texture transformed this cold and gloomy basement space into a warm and cozy subterranean sanctuary.
BEFORE: The drywall was drab and uninspiring.
And here's the good news - they were surprisingly simple to install.
William plotted out exactly where his panels were going to go ahead of time - figuring in the awesome textural contrast.
Once that had been done, he could install the panels directly against the existing drywall with regular construction adhesive, their interconnecting design ensuring a seamless fit.
One challenge was cutting the panels to fit around the basement window, and cutting them to size to fit flush against the wall.
While that demanded some basic carpentry skills, what it didn't require was the use of any special tools. William was able to cut the panels to size with a standard wood saw, because the panels are made from easy-to-cut (yet tough and durable) polyurethane.
The end results, as you can see, are pretty spectacular.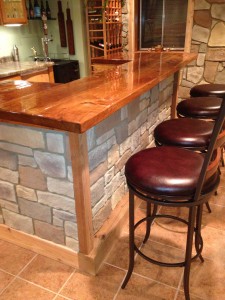 AFTER: The wet bar island is framed by natural wood, which enhances the cobblestone pattern.
And of the reasons the finished design looks so awesome is because William framed each paneled section with wood; which further added to the cozy, cabin-like decor.
That framing also helps round out the corners; which solves the challenge of mitering them (although mitering our panels is surprisingly straightforward.)
We were blown away by these "before" and "after" pictures - but what do you think? Let us know in the comments section below.