Tiny House - Timeless Redesign
Could artificial brick or stone panels be the key to tiny house design?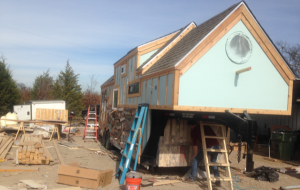 Simon and Lindsey's "Bird Nest" house was just 192 sq. ft. and moveable as a trailer.
Tiny Houses are all the rage at the moment. The concept of extremely-small-square-footage living has been around for a while, but has exploded in popularity in recent years. There's even a TV show about it - Tiny House Nation.
And like with all the hottest design shows - Extreme Makeover: Home Edition, Man Caves, Money Hunters, Curb Appeal and many more -faux panels were stars of a recent episode.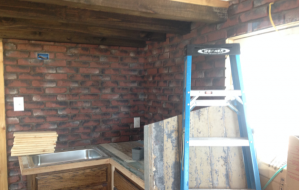 Old Chicago Brick panels made the kitchen come alive, but helped keep the final weight and cost down.
Episode 6, called Bird Nest, featured the Tiny House crew in Mesquite, Texas - designing a home for bird trainers Simon and Lindsey.
At just 192 sq. ft, there wasn't much room for frivolity - but hosts John Weisbarth and Zack Giffin still managed to give their tiny 'bird nest' home some timeless appeal through the use of reclaimed material - like a tin ceiling - andartificial brick panels.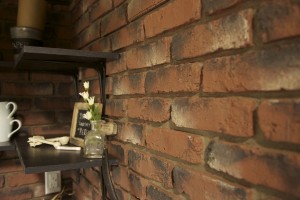 Close up view of the finished installation
In fact, the entire interior was decorated with our lightweight panels - giving the appearance of a brick home; but without the heavy and bulky brick materials that would have added a ton of weight to a house designed to be portable.
Simon and Lindsey's house was a masterpiece of design - and just goes to show how useful faux panels are in a tiny home. Here are some areas in which they're particularly valuable: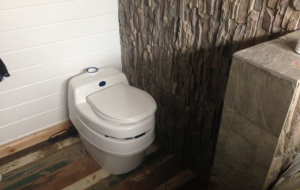 The bathroom was similarly finished using stacked stone panels, which are waterproof.
The bathroom of a tiny house is normally incredibly utilitarian - sometimes with the bathroom acting as a shower cubicle itself, to save room. Faux offers a great wall solution for bathrooms because in addition to adding a look you could never get in a tiny home (like stacked stone or brick) the panels are 100% waterproof, which is ideal for a bathroom or shower.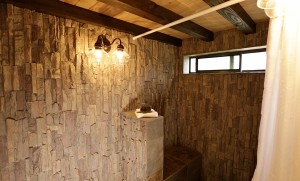 The finished product looks amazing, and because they are water resistant, are perfect for a bathroom.
Likewise, the kitchen of a tiny house is normally a single counter top, incorporating a burner, stove and sink. A single faux panel can be used as a handsome backsplash - again combining the look of stone or brick with the the utility of a waterproof and resistant material.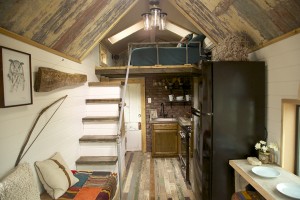 Although barely bigger than a tractor trailer, the finished Tiny House is a triumph of design and style.
Finally, some tiny homes even include a fireplace! To add a rustic look in keeping with tiny home design, you can frame these fireplaces with the panels to give the illusion of a stone fireplace. The panels are available with a fire-rated option, this is an especially appropriate use for them.
We think Simon and Lindsey's house looked INCREDIBLE - and we're eager to see more pictures of tiny houses coming to life!