Noemi R. from Holiday Hills, IL recently sent us these awesome before and after photos of a DIY project she'd completed - building a gorgeous wood stove backing using Norwich Stacked Stone fire-rated panels.
AFTER
Timeless Wood Stove Backing in a Modern Home
Illinois, the Land of Lincoln, is often described as a microcosm of America - and when it comes to the weather, that's no exaggeration. Blissfully warm summers are contrasted with brutal winters - during which nothing seems as comforting as the thought of nestling in front of a warm log fire.
Which is exactly the reason why Noemi decided to invest in this beautiful wood-burning stove. A classic and timeless design, it offers an economical source of heat all winter long and looks incredibly stylish.
But Noemi's more modern home contrasted sharply with the timeless look of the old stove - which led her into investigating products that could blend classic design with contemporary cool.
In the end, she settled on our products - creating an backing wall in the corner of the room using Norwich Colorado Stacked Stone Toasted Vanilla panels.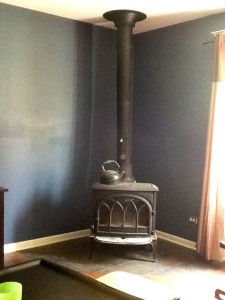 BEFORE: This amazing wood burning stove looked out of place with the modern, painted walls.
The panels were a great solution because they attached directly to the drywall behind the fireplace, using nothing more than regular construction adhesive and screws. Noemi started on the bottom row, then slotted each of the panels into each other like a giant jigsaw puzzle - resulting in the totally seamless finish you see here.
The only two elements that needed additional thought were cutting the panels to fit - which can be accomplished with a regular wood saw - and making sure that they were a safe backing for the heat generated by the stove.
In this case, Noemi ordered the panels with the optional Class A Fire Rating. A number of our product lines are available as fire-rated and that adds a certain peace of mind to using them for fireplace projects.
And as you can see from the "after" picture, the results are impressive. The panels mimic the texture and color of real stacked stone and make it look like this vintage wood burning stove is actually nestling in a corner fireplace built from real stone.
Have you used our panels for a similar project? If so, be sure to let us see the results! Email us pictures to info@fauxpanels.com and maybe you'll be featured next on our blog!