We've said it time and time again - simplicity is often the key to making the most from our panels. This great set of photos, sent from Tim and Marie H. of Ohio, demonstrate that perfectly with their front porch remodel.
BEFORE: Tim and Marie's home looks great - but the porch needs some finishing touches.
Front Porch with a Stone Look
"We're sending these before and after pictures of my front porch," Tim said in his email. "We've had numerous compliments on it."
As you can see from the before pictures, Tim and Marie's porch was sturdy and elegant, but the bare wood beams didn't match the clean lines of the crisp white porchwork and home exterior. Creating an actual stone surround for it would have been time consuming and expensive - not to mention messy, since they'd have had to dig up all around the porch.
So instead, Tim found a solution on our website - Novik Cobblestone Exterior Siding Panels & Coordinating Corners.
The panels themselves were incredibly easy to install - they can be fitted just like regular vinyl siding using starter strips and corner bases. At just short of 18" high, they're the perfect height for siding most porches, or for using as skirting - but if the height isn't right, can also be cut easily to size with a regular wood saw.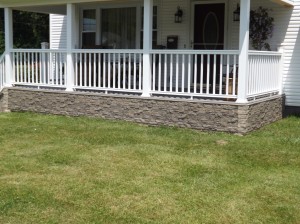 AFTER: Our Novik siding options makes the perfect porch!
What Tim and Marie did that was different, though, was in the corner pieces they chose. Instead of buying matching pieces, they chose Novik corners in a subtly different color - adding a lighter accent that looks stylish in the most elegantly understated of ways.
"All my neighbors ask me where I purchased the panels from," Tim admits. "I gave them your web site address - hopefully I can send some business your way!"
We definitely appreciate the business, Tim - but we also appreciate you taking the time to send us these pictures! Your porch looks amazing; and we love the contrasting color selection.