Keystones and trim blocks accent the windows for a barn converted into living space.
The Key "Stone" of a Great Looking Project
The completed project is definitely going to impress guests.
Some projects just make you take notice and that was the case with this renovation. It not only featured our Windsor Dry Stack siding panels but also our faux rock keystones and trim blocks. The additional design touches had a strong visual impact.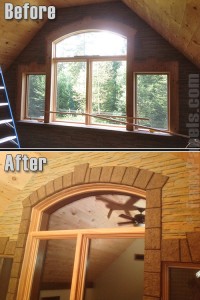 The Before & After photo shows how they planned out the area for the keystones & trim blocks and cut their panels to fit beforehand.
Juanita in Vermont is renovating a barn to convert it into living space – a big project by itself. The second floor already had two picture windows overlooking the backyard, plus two standard windows and an eyebrow window arching over two of the four windows. It's easy to see why she decided to highlight this attractive architectural feature.
The second floor also features a vaulted ceiling and a gas stove, which factored into the design. Juanita also wanted to incorporate a window ledge. She decided that stone would provide the perfect rustic look, but real stone would require structural support.
"We decided to go with Faux Panels for a number of reasons: ease of installation, cost effectiveness and lower weight on the structure as this was a second story inside installation," Juanita said.
Juanita used our photo galleries and project idea pages to get ideas because she knew she wanted more than just a faux stone accent wall. That's where she got the idea to use keystones and trim blocks to highlight and unify the window design.
While most of our customers simply work out their designs with pen, paper and accurate measurements of the space to be renovated, Juanita was comfortable enough with Autodesk CAD to use it to map out the block and keystone pattern.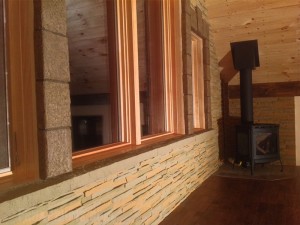 This shot really shows off the dynamic texture of the panels & trim blocks.
"This was a tremendous advantage as it allowed us to financially see how much the entire project would cost with each new design. It also allowed us to minimize the amount of blocks that would require cutting before mounting them," said Juanita.
"Once we knew our design, we ordered our materials, making sure to order extra caulk in all the shades available per the site's recommendations, as well as touch up paint," she added. "Everything arrived as scheduled, in good condition and well packaged. The installation of the stone panels and the ledge stone was every bit as easy as the site says."
Juanita and her family did the entire installation themselves and followed instructions exactly, even covering up the screw heads with a dab of touch-up paint. When they used the matching caulk between blocks "the cuts just disappeared."
"We are very pleased with the way the project turned out," Juanita said. "The material is very, very realistic looking as you can see by the picture and very impressive when installed according to the site's instructions. Thanks for making such a great project."