Beautiful Beam Cover-up
Leigh Ann More, from Bellevue, Washington, gave her boring beams a functional facelift!
Washington State is renowned for its towering forests - and, as such, the sight of real wood is common in many homes in the region. It was the desirability of that real-wood look that led customer Leigh Ann More to check out our products in the first place.
The completed remodel: Leigh Ann covered the existing support beams with fantastic looking Timber beams.
Leigh Ann wanted to transform their living room, which was fairly nice but had a couple of areas ripe for improvement. Chief among these was some white load-bearing beams criss-crossing the ceiling - that were functional, but hardly pretty.
The issue was that Leigh Ann couldn't exactly get rid of them - but that didn't leave her with many options to make the room look more cohesive. Or, at least, that was the situation before she discovered our Custom Timber beams in Walnut.
BEFORE: The white ceiling beams were bland.
Because our beams are available in a hollow u-shape, they were a perfect solution for Leigh Ann. She carefully measured her ceiling, and then ordered four of our beams long enough to stretch across the entire width of the room.
But, more than that, Leigh Ann ordered the beams wide enough so the hollow space inside the beam was big enough to slot directly over the existing ceiling beams.
The support beams were just the right width to be covered by the 3-sided faux beams.
This meant that, when the beams arrived, they could be hoisted into the correct position, and then attached to the existing beams with regular wood screws. It made the already straightforward job of installing our lightweight beams even easier; and they look great.
Because the beams' material is molded from authentic timber, and then hand-finished in realistic wood color, they look vividly realistic; and in the space of a few hours totally transformed Leigh Ann's living room. Now people look up at the beams and think they're real wood - and short of reaching up to touch them for themselves, its impossible to tell the difference.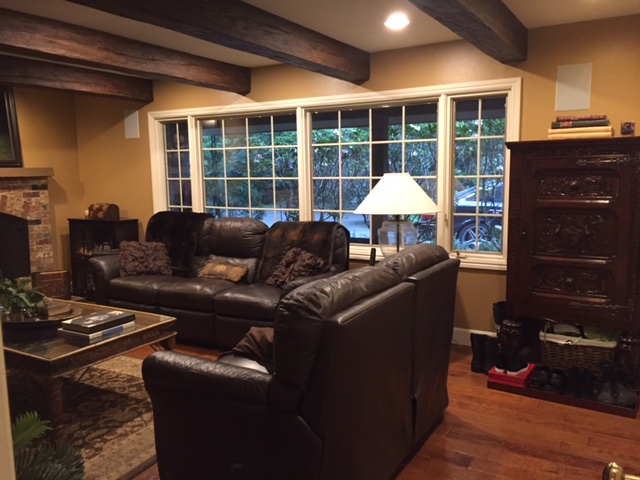 AFTER: In the space of a couple of hours, Leigh Ann totally transformed this room.
Leigh Ann finished her room redesign with a subtle change to the color of the walls, and the result looks fantastic. A bare and basic living room now looks cozy, classic and intimate; and the beams themselves are the perfect addition to a Washington home.