FauxPanels.com customer Pamela recently sent in pictures of her home's newly remodeled exterior - and we thought it was a great example of how to choose the best siding for your house.
Located right in the heart of the woods, Pamela's beautiful country home blends perfectly with the towering trees, thanks to a classic American design and a tasteful brown paint scheme. However, she felt there was something missing - and that's where our siding came in.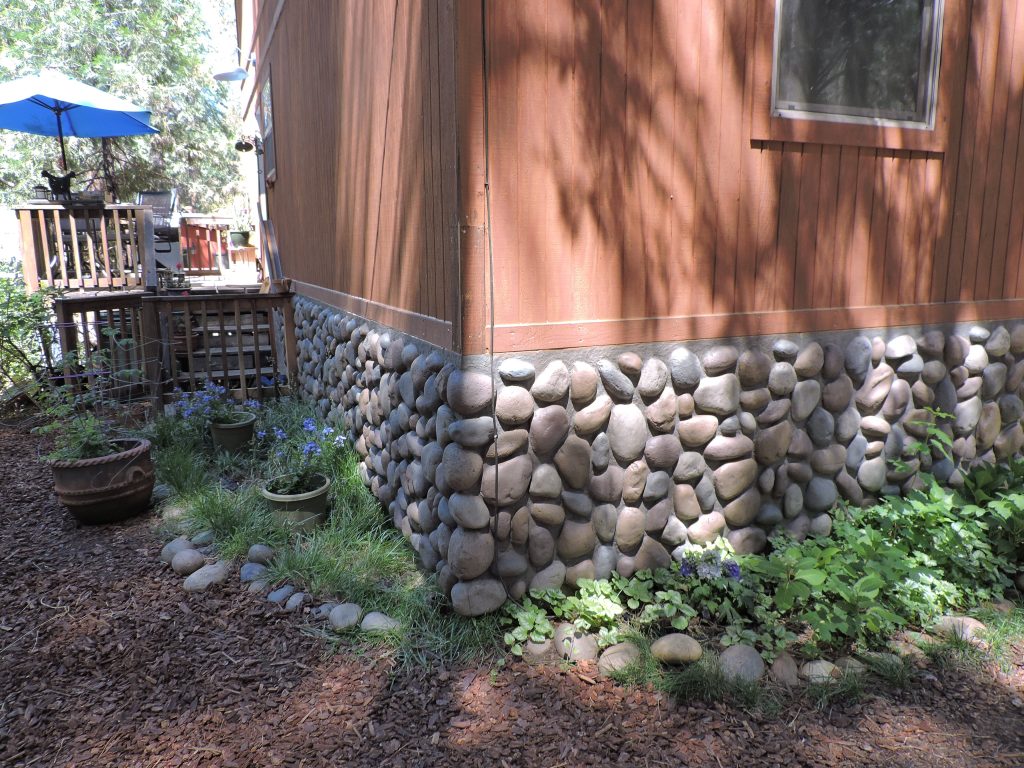 The River Rock style of siding best suited the house's landscaping and location.
Pamela was looking to add stone or brick style siding to the home to give the impression that it was built on a stone foundation.
But right from the get-go, Pamela knew she had to be smart about what sort of stone texture she wanted to use. While all of our panels look great, there's a very specific style of stone in the region where she lives, and some of our product lines would not be congruent to that area.
BEFORE: You can see how the siding would help make the house look a lot nicer.
That's why, in the end, she chose Regency River Rock panels with optional corners and other accessories.
The River Rock style is designed from molds taken of the characteristic curved rocks and boulders you'll only find in rivers and streams. As it happened, those are the style of rocks prevalent around Pamela's home - in the photos you can see them border the flower beds and line the pathway.
Our other styles, like Stacked Stone, for example would have looked great on Pamela's home itself, but wouldn't match the rest of her property in the same seamless way that River Rock does.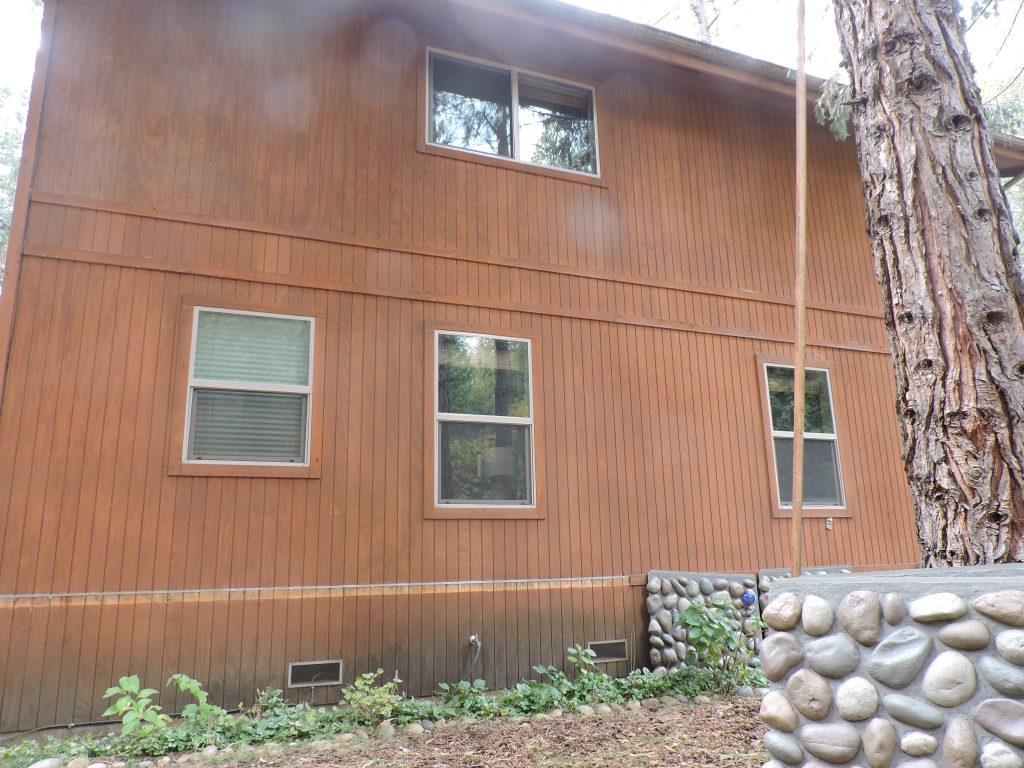 DURING: Pamela kept the height of her siding the same as that of our panels, for a simple and seamless installation.
Pamela installed the panels along the bottom section of the home's entire perimeter. She very wisely chose to order and install the panels' matching corner pieces as well. To get the perfect look, Pamela used two further accessories - Regency River Rock Gray Grouted Filler Panels and Regency River Rock Gray Rock Set.
Grouted Filler Panels and Rock Set allow you to seamlessly connect panels even if there's a gap between them.
While many of our products are easy enough to trim seamlessly against corner pieces, the large stone texture of River Rock makes this difficult - you'd basically be left with rocks sheared in half where one panel was trimmed to meet the corner piece. The filler panels are designed to solve that issue. They are molded in a cement-like texture and can be trimmed to size to give a seamless backdrop when spanning the gap between one panel and another. The rock set on the other hand, contains individual large, smooth rock pieces, which can be stuck to the installed filler panel as and where they fit.
The result? Once the filler panels and rock pieces are in place, you have a section that perfectly matches the panels on either side of it. It's a clever and simple way to ensure your panels align with each other, regardless of the length of the wall you're installing them on or if there's a gap left over between two full-size panels.
DURING: River Rock panels perfectly matched the style of rocks found in the region.
By ordering these accessories, Pamela's siding looks totally natural - and was incredibly easy to install. To most observers, it's impossible to tell that the stones are "faux" instead of the real thing.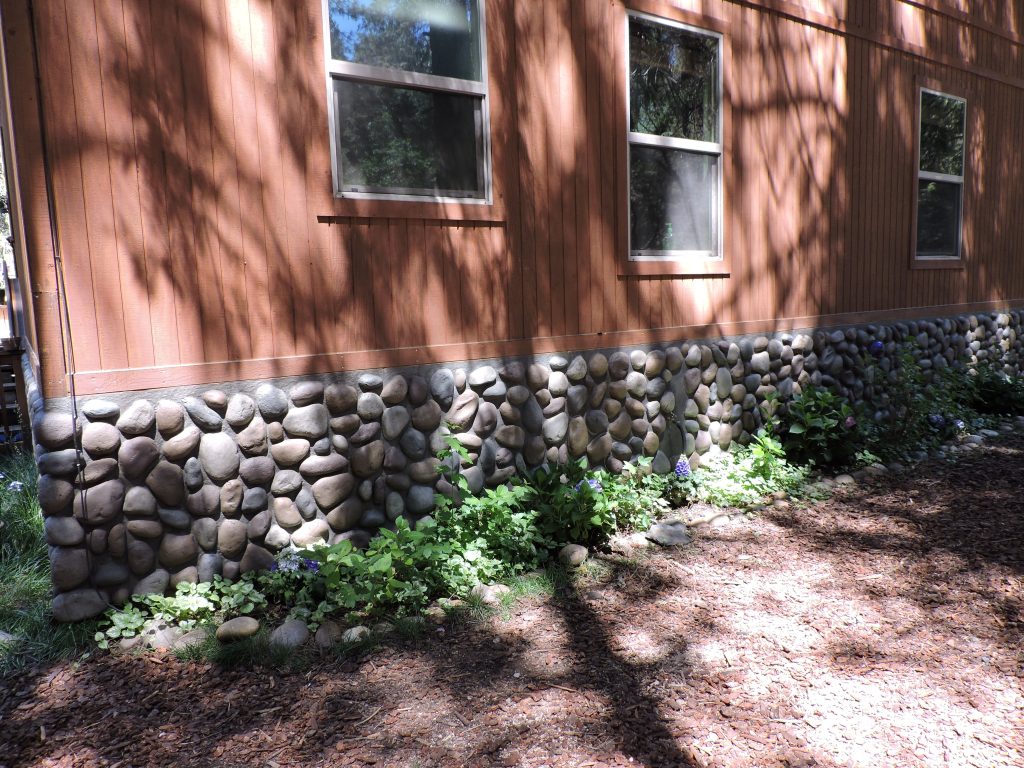 AFTER: We love this project, and think the siding makes Pamela's house look great.
We love this project, and think Pamela did a fantastic job with it. She really picked the right products to use here. But what do you think? Let us know in the comments section below.