Seattle's favorite export has opened up chains of coffee shops all across the world - and to keep their signature look and feel, one location in Montreal reached out to FauxWoodBeams.com™.
This Montreal Starbucks used our Custom Resawn Beams to add that classic Starbucks atmosphere
Synthetic Beams Served up at Starbucks
Starbucks is famous the world over; and one of the reasons they've become so well-loved is because they offer an incredible consistency of quality and atmosphere.
Walk into any Starbucks location worldwide, and it feels like you're in the one nearest your house.
One way in which franchise owners have managed to achieve this is by using common interior design styles - featuring lots of warm decor like brick and wood.
The challenge is, however, that not all Starbucks locations feature things like that; so owners have to find ways to add those design elements themselves.
For this Café Starbucks location, in Montréal, QC, Canada, the owners found exactly what they needed on our website.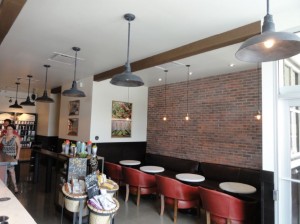 Bare brick walls are a great combination with our faux wood beams; in this case, adding a timeless look familiar to any Starbucks fan.
Uncovering bare brick walls introduced that classic Starbucks style so familiar to customers, and adding our Custom Resawn Beams to the ceiling finished off the look.
Two design elements combine into an interior that will be instantly familiar to Starbucks patrons from anywhere in the world.
What's particularly clever about this design is how it actually uses some existing design features to compliment the addition of faux wood beams.
The arch between the serving area and the seating area is made from real wood, and the designers have expounded on that by adding similarly-colored wood panels to the milk and sugar serving area.
The faux wood beams on the ceiling, therefore, blend into the decor seamlessly; and even if they weren't already vividly realistic, this combo would help ensure that customers didn't even suspect that the wood beams above their heads weren't as real as the wood panels and framing.
Ultimately, it's a design masterful in its simplicity and elegance; and one that's sure to be appreciated by customers for years to come.