Like most homeowners, you've probably spent a lot of time thinking about the curb appeal of your home. There are many ways to improve your home's exterior, such as adding faux stone columns to your porch, touching up the paint and changing up the landscaping. Another simple way to immediately boost your home's curb appeal is to add a faux stone column mailbox to your front yard.
While the mailbox plays an important role for your entire home, it's one of those things that's too often overlooked. Even if it's not an eyesore, chances are it hasn't received the same kind of attention you've given the rest of your home's exterior. You might be surprised to see just how much of a difference it makes to give your mailbox a makeover.
Adding a faux stone mailbox column is an affordable way to create a customized, attractive and useful addition to your home's exterior without breaking the bank.
If you're ready to take on a summer yard project, this is a simple improvement that can be done in a weekend.
Selecting the Stone Mailbox Column That's Right for You
Faux stone mailbox columns are a great way to dress up your existing mailbox post, and it's much less expensive (and faster) than adding a column made from real stone or rock.
If your mailbox is mounted on a simple wood post, you can either cover just the mailbox post with a faux stone veneer, or transform it into an enclosed mailbox within a column. Both of these projects are easy to do whether you're a novice or a pro, and it starts with choosing the look that you want.
Part of your decision on the type of mailbox you choose will depend upon your mail delivery service and what your curb can accommodate.
To meet USPS regulations, the mailbox must be 6 to 8 inches away from the curb and be easily reachable by your postal carrier without them having to leave their vehicle. If you're adding a new mailbox feature, take all of the government requirements into consideration before making your final decision.
Also check with your local municipality regulations before starting a mailbox project, since some areas require that mailbox posts along roadways must be collapsible upon impact with cars.
Once you've decided between a faux stone post and a faux stone mailbox column, you can start looking at what finish will suit your home best.
Choosing the Best Look for Your Home
If you've recently updated your porch with stone columns (or are planning to do so soon), you can either choose a faux stone mailbox column that matches your existing faux stone, or you can find one that complements the color and style of your porch columns.
One of the advantages of faux stone made from polyurethane is that it's extremely lightweight and easy to work with, yet at the same time, it's durable and resists cracking, fading or peeling.
Just as with our faux stone panels and siding, the columns are molded in forms made from actual rock, stone or brick, so each column has the look and feel of the real thing without the cost or the need to bring in a professional mason to do the job.
They come in a variety of colors to allow you to find one that fits with your outdoor environment so you can create whatever look you want to achieve. Let's look at four different options for selecting the right faux stone mailbox column:
Ashford Columns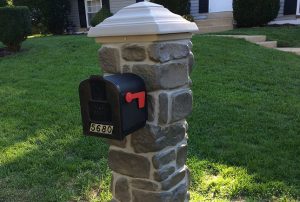 Ashford Outdoor Columns and Posts are available in two styles for mailboxes: ledgestone columns, which come in brown or gray, and river rock mailbox posts, which have a total height of 64 inches (the post can be partially buried if a shorter size is needed).
Carlton Columns
With several options in finishes, sizes and colors, the Carlton line offers more than a dozen choices to find the one that works best for your mailbox.
From brick and ledgestone to cobblestone and castle rock, these mailbox columns are particularly simple to install and come in a single piece.
If you're not confident in your DIY skills, this is a great place to start; all you have to do is fit the column over a post, attach the included base and cap, and insert the mailbox.
Norwich Columns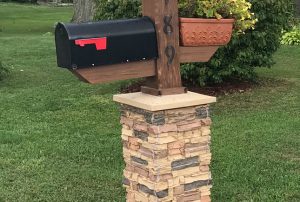 With more than two dozen colors, including white and a dozen premium colors, the Norwich line of stacked stone pillars has an extensive number of choices. The columns come in four interlocking pieces; the cap and base are not included.
Wellington Columns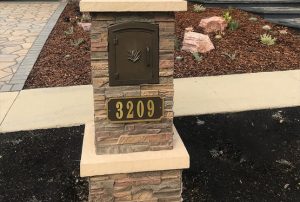 The Wellington Stone Column comes in 11 colors and is designed to have the realistic appearance of stacked stone. Each column comes in four interlocking pieces to make assembly simple — even for beginners.
The Benefits of a Faux Stone Mailbox Column
In addition to dressing up the exterior of your home and boosting your curb appeal, a faux stone mailbox column is much more durable than the traditional wooden mailbox post.
It will resist harsh weather better than wood or plastic, because the treated polyurethane is designed to stand up to rain, snow, wind, sun and more. And, since it isn't made of wood, pests like termites and carpenter ants won't bother chewing on it.
It also ensures that your mailbox is well secured — and if you receive curbside newspaper delivery, you could add a second, matching post designed for your newspaper.
Regardless of which style you choose, a faux stone mailbox column is an upgrade that you'll be glad you made — and you'll be amazed to see what a huge difference it makes in your home's curb appeal.
Visit our online Photo Gallery to see what other customers have done to upgrade the look of their mailboxes, then be inspired to create your own.