Kitchen Ceiling Treatment for a Beautiful New Look
Check out this stunning kitchen ceiling treatment, built with Custom Aspen Beams.
Wooden ceiling beams are, by their very nature, designed to conjure up an 'old' look. After all, our beams are designed to mimic the real structural timbers that used to support ceilings and roofs in historic homes.
But with a bit of design flair, it's possible to bring our timeless beams right up to date - as demonstrated in this gorgeous kitchen project.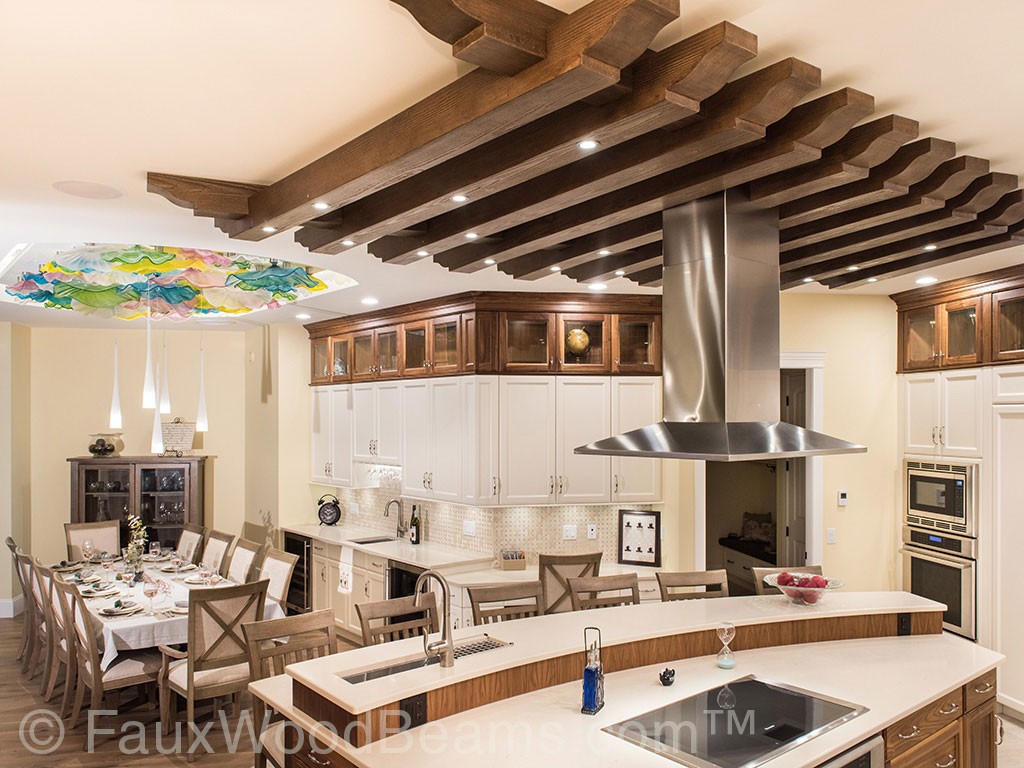 This stunning kitchen ceiling treatment was built with Custom Aspen beams.
This ceiling treatment is thoroughly modern, and beautifully complements the cabinets and other wooden features of this luxury kitchen. It's a beautiful design feature, and very much the centerpiece of the room.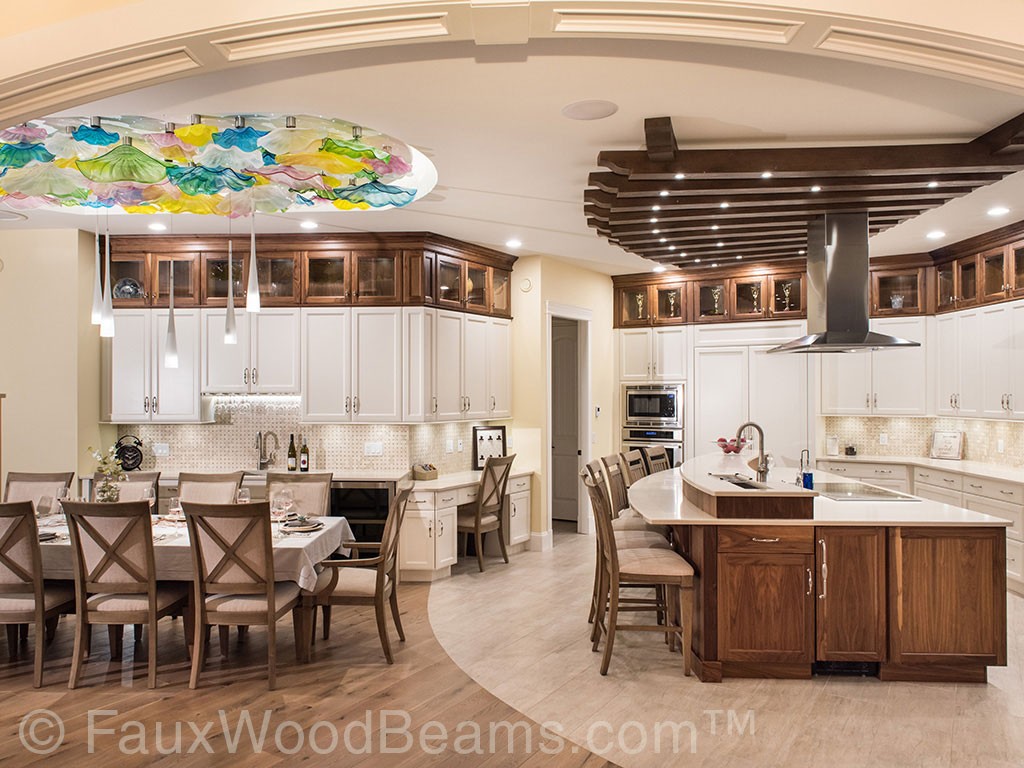 As you can see, this treatment complements the existing wooden features perfectly.
This intricate piece was built by interconnecting a number of beams in a railroad track pattern. The installation required nothing more than basic carpentry skills; and access to a standard wood saw. The beams were attached with construction adhesive and screws for a quick, easy build.
If this ceiling feature had been built from real wood, it would weigh a lot - easily more than a hundred pounds.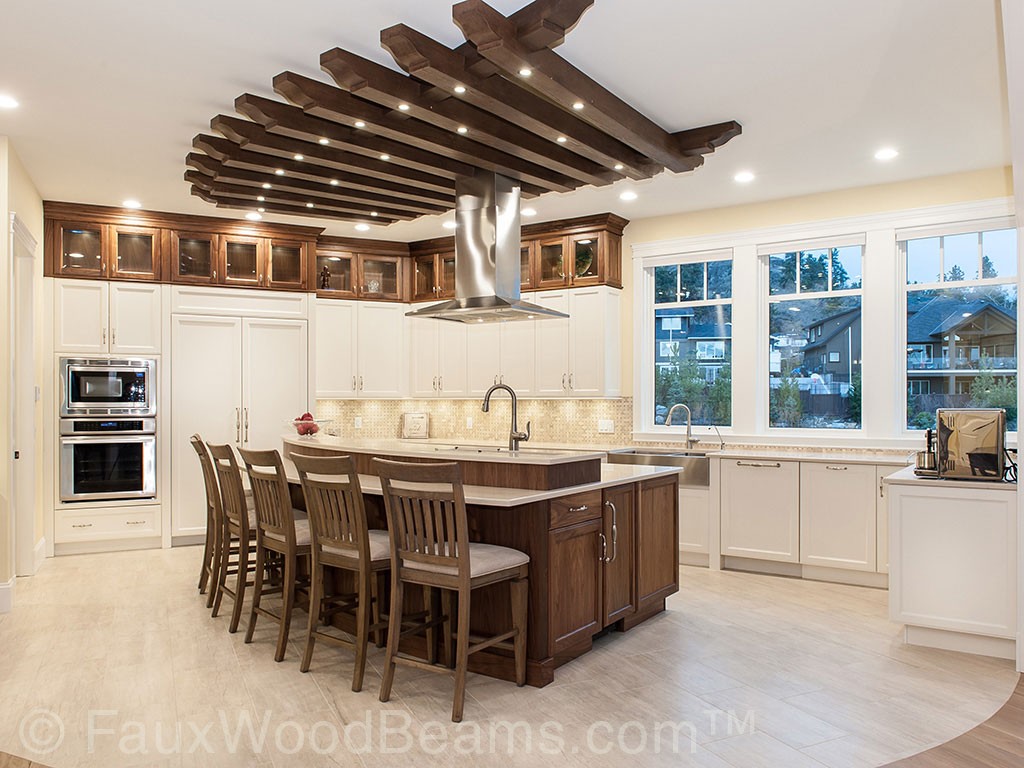 The feature includes recessed lighting and a fully functional extractor fan.
In contrast, polyurethane beams weigh a fraction of what real wood does; and therefore can be safely and securely installed on the ceiling using mounting blocks and screws.
Most importantly - the installation isn't just for show. If you look closely, you'll see it incorporates a number of practical features that could only have been built with our beams.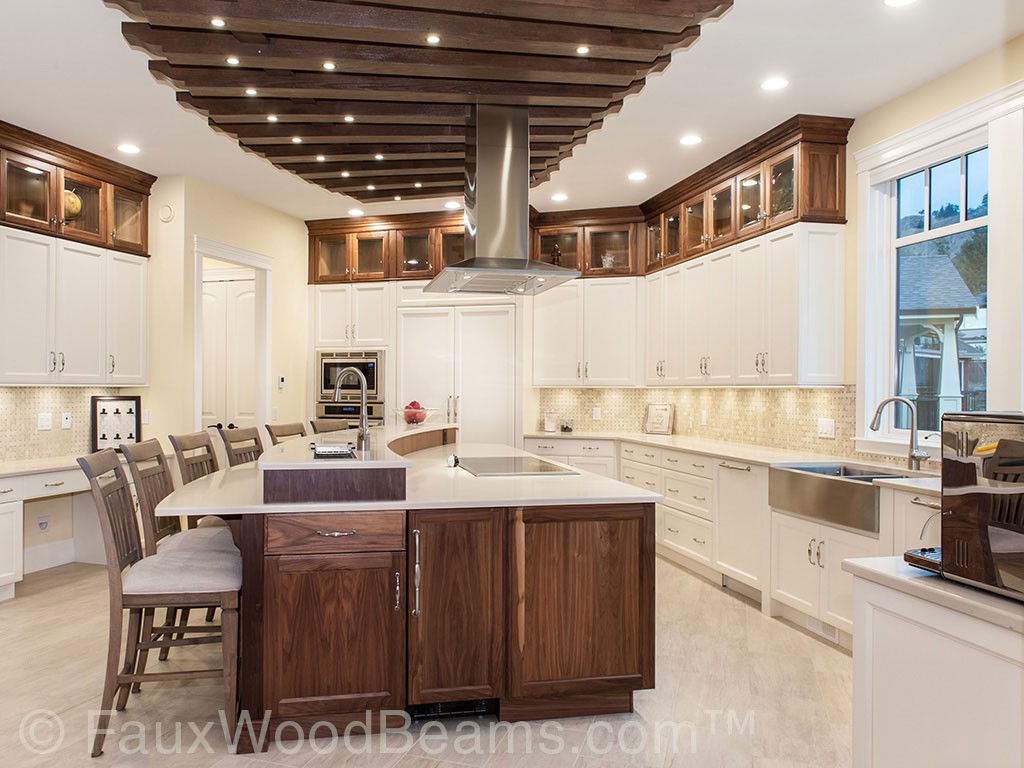 Even up close, it's almost impossible to tell this treatment wasn't created from real wood.
There are recessed lights and an extractor fan; which can operate seamlessly thanks to the mechanical parts being run through beams hollow centers; out of sight of people sitting below.
These three advantages come together to create something truly stunning - a testament to just how versatile our products can be in the hands of an imaginative designer.