BarronDesigns.com customer Kelly wanted to rein in the cavernous, empty-space of her cathedral ceilings - so she hired a contractor to create some stunning faux wood trusses using our false beams.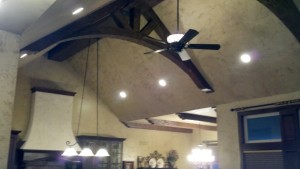 These incredible truss designs were created using our synthetic wood products.
Stunning Ceiling Truss Using Faux Beams
"With all these tall ceilings in my home, I thought it felt a bit cavernous - in my living room especially," writes Kelly H., a faux wood beams customer from Wichita, Kansas.
Her beautiful home had incredibly tall cathedral ceilings in the living room, dining room and kitchen - but with no structural features to break up the expanse of drywall, they looked stark and intimidating.
She found her solution on BarronDesigns.com, and reached out to contact us. Her idea? Using our synthetic wood products to build cathedral-style trusses to use in her cathedral-style ceilings!
Another shot shows how intricate and seamless the faux wood trusses look - blending perfectly with the ceiling shape.
Our team at Barron Designs actually helped her design the trusses, using some of the designs we've posted on our website.
The design Kelly eventually settled on was one of our most innovative and stylish - incorporating an arched beam along the bottom, to add a dynamic swoop and increase the height of the ceiling.
Once the design had been settled on, Kelly passed on our instructions to her contractor: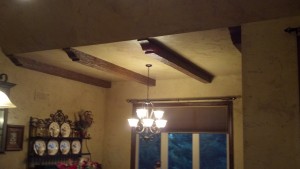 In other areas of the house, Kelly installed regular faux wood beams, which complimented the trusses perfectly.
"My contractor did a great job installing them—the trim carpenter that put these up said the video on the web site really helped him get it all together and that is was pretty easy to follow the video and the design you sent to put them up."
"Though I had to wait on the schedule because of my vacation and other jobs the contractor had going, once they started installation it went very smooth and they actually took less time than they thought."
And the results? As you can see from the pictures Kelly sent us, they're nothing short of stunning.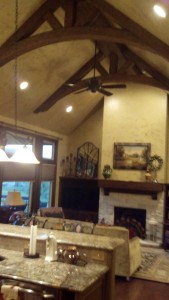 Kelly chose faux wood beams that matched the existing wooden features of her home, creating a uniform feel and style.
"As you can see, the beams are FANTASTIC! The beams look as if they were put in when the house was built and they really warm up the rooms. Now it feels warm and truly gives our home that rustic farmhouse feel that I wanted."
"I can't say enough good things about how it looks now. Everyone who has come over to see them thinks they are real wood beams and ask me how much the "reclaimed lumber" cost. They are shocked when I tell them the beams are faux!"
And we're proud to say that it wasn't just Kelly who was impressed with our product: "My contractor is really excited about your product—he took the samples I ordered originally to select the beam style because he thinks some of his other customers doing remodels would be interested in this given the cost and ease of installation. Maybe you will get some more jobs! Who knows?"
We're excited for all the business we can get - thank you, Kelly!