We love getting pictures and success stories from our customers. While many of them share their home remodeling projects, we also get a good amount of feedback from those who've used imitation stone panels for their storefront design.
Impactful Storefront Designs
Home is where the heart is, but businesses get their owners' blood, sweat and tears -- which is why it's so important that their work is represented with a decor made to impress.
Dr. Katie B, a chiropractor and owner of Back to Action in Flora, IL, remodeled her clinic's exterior with Colorado Dry Stack Earth panels - with stellar results.
Fantastic update to dated office building. After much research, my husband and I decided to try this product on the 35-year-old office building we were remodeling for my clinic. We were pleased with how easily it went up, compared to traditional stone, and how much more realistic it looked than the cheap vinyl brands. The corner pieces locked together to create an ideal solution for the ugly gas lines going up the back of the building as well. So far we have had nothing but compliments on the look of the new clinic. Thank you for the excellent product!
This business owner's application of faux panels is one of the more unique applications we've seen - and extremely cool! Dome Creations LLC of Colorado Springs, CO, manufacture state-of-the-art geodesic domes that can be used as greenhouses, sheds, hot tub enclosures and more. This dome married with Somerset Dry Stack panels makes for an impressive showpiece.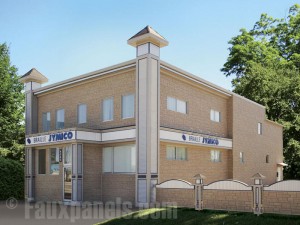 Braille Jymico is a leader in Braille production of scientific documents and tactile graphics. Jymico beautifully renovated their headquarters in Quebec, Canada, with Novik Exterior Siding.
Want to see more commercial designs? Browse through our photo gallery and see how other businesses have improved their interior spaces and exteriors with faux panels and siding.