Patti Widrick from Watertown NY wanted a stone fireplace design – but didn't want all the complications that went with it. Faux stone panels with a Class A fire rating offered the perfect alternative.
Class A Fire Rated Stone Panels for Fireplace Design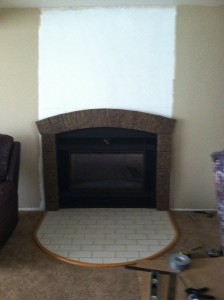 Adding real stone to this attractive fireplace would have been expensive and inconvenient.
"My husband and I wanted our fireplace to be in stone," she wrote to us, supplying pictures of their recent remodeling project, "but when I started to think about how we were going to do it, I realized we needed an alternative to real stone."
"My husband had just finished adding real stacked stone to the outside of a home, and I'd seen how much work it was - all the dust, the time consuming process of getting all the stones to fit just right and the mortar clean up using muriatic acid. We weren't ready to put up with all of that inside our house."
"Faux stone panels seemed like the perfect solution for our fireplace. It was more affordable than real stone in price, and a lot less time consuming to install – plus no clean up!"
But Patti admits, she had concerns about using artificial stone paneling.
"We were fearful, even after receiving samples, that the product would not look like real stone once it was installed – trust me when I say that we're very particular about our home."
But Patti's fears were unfounded. "Once installed, the simulated stone panels look very realistic."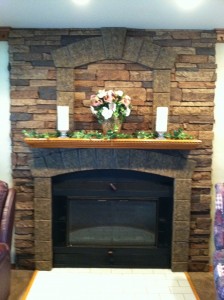 Faux stone panels captured the look and feel of authentic stone, without the expensive and difficult installation
Patti's fireplace design was transformed using our Norwich Dakota Stone Wall Panels – ordered with the Class A Fire Rated option for a small additional cost.
"The faux stone panels were very easy to work with," Patti wrote. "We did have a minor issue with some of the trim stones coming scuffed up – but worked with a FauxPanels.com customer service representative and were quickly able to resolve the problem."
To give the stone veneer panels an even more realistic appearance, Patti writes: "we used sanded chalk between the trim stones to give it the real mortared in look." You can see from the "after" picture how good this looks.
"Our project turned out really well," Patti wrote, "we're very pleased with the faux stone panels. With the combination of oak and stone, it's given our fireplace a much more sophisticated appearance."
From the "before" and "after" photos Patti supplied, we'd have to agree with her.