Our synthetic wood products are available in a variety of finishes; all of which perfectly match the hue of natural wood like ceder, walnut or pine. But for homeowners who appreciate attention to detail, its also possible to order our products unfinished; and add a stain that perfectly matches existing wooden furniture and fixtures.
Staining Faux Beams to Match Existing Wood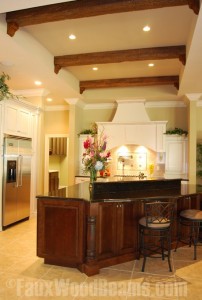 By staining these false beams and faux wood corbels, they perfectly match this kitchen's wooden island.
Wood is an amazing material - and wooden furniture and fittings add richness and warmth to any home. That's one of the reasons our faux wood beams are so popular; as they give homeowners the opportunity to add the look of real wood to their home without the expense and difficulty of using authentic wood and timber.
But if your home already has wooden features in it, adding faux wood beams might present a challenge - because while they're available finished in a variety of real-wood colors, those options might not exactly match the existing woodwork. If that's the case, a good move might be to order our faux wood products unfinished and stain them yourself to perfectly mimic the hue of the real wood in your home.
Staining faux beams is straightforward. Most of our products are available pre-primed, ready for the addition of a regular wood stain. Our sandblasted and timber beams come unprimed; but can easy be prepped for staining with an all-purpose primer like Benjamin Moore "Fresh Start" 100% acrylic all-purpose primer. We recommend a tan or peanut color for the best wood-look.
Once primed and prepped, you're ready to stain. The best product to use is a water-based, semi-transparent acrylic deck stain like Sherwin Williams "DeckScapes" or Benjamin Moore semi-transparent deck stain "Arborcoat". Water-based products produce a nicer finish, and are much easier to clean up than traditional oil-based stains.
Choose a color that best matches your existing wood. You can control the richness of the stain by varying the amount you apply. For darker wood, use more - for lighter wood, use a wet rag or cloth to wipe off excess stain immediately after application. It's not an exact science - which is why we recommend practicing on a spare section of faux wood beam prior to staining your actual product (if you don't have any spare beam material, you can ask for a sample piece when ordering.)
For more details about staining and finishing your faux wood products, check out our page on the subject here: Painting, Staining and Touch-Ups.
Using this technique, you have complete control over the color of your beam prior to installing it - and using that, you can use faux wood to perfectly match existing wooden features and create a totally seamless wood-look to any room in your home.