Stacked Stone Home Design Ideas - Norwich Panels and Siding
All throughout November 2017, you can save 10% on our Norwich line of panels and siding - with styles including Colorado Stacked Stone, Random Rock, Drystack and more. If those massive savings weren't enough, we thought we'd whet your appetite with some design highlights; showcasing some of our favorite customer projects completed using Norwich products.
Kelly sent in pictures this July that really blew us away. She wanted to add some rustic charm to her pretty two-story home, and to that end invested in Norwich Colorado Stacked Stone Tall Panels in realistic Canyon Gray. She then used these panels to resurface the ground floor exterior of her home - creating the illusion that the house was built with a real stone foundation, which added a whole new element of character and charm to her already beautiful home.
What we loved about this project was its simplicity and subtlety. By deciding to cover just a small section of her home, the panels end up looking even more realistic, and contrast beautifully with the existing siding. The Canyon Gray color also matches perfectly with Kelly's wooden window shutters and garden. All she needed to do for installation was cut the panels to fit around the existing windows, which could be accomplished with a regular wood saw and careful measurements.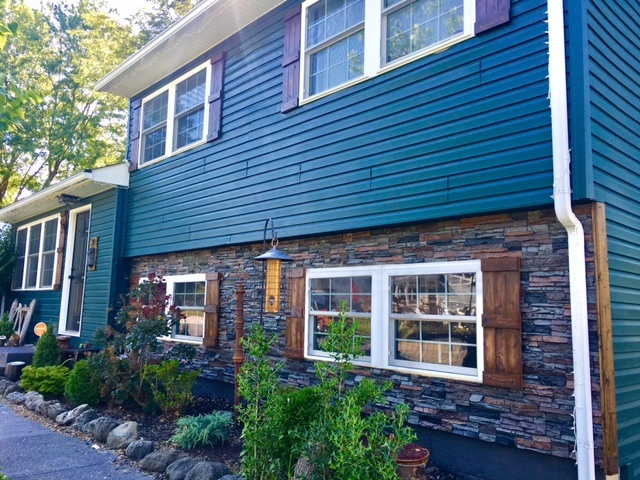 Kelly's home exterior was transformed with Norwich Stacked Stone panels in Canyon Gray.
Spectacular Basement Bar and Secret Bathroom
When Erin Reeb sent in pictures of her basement bar, we were stunned. We've showcased a lot of unique customer projects over the years, but this was really something else - a fully-stocked wetbar and media room, complete with a secret bathroom.
Erin's triumphant basement transformation featured Norwich Colorado Stacked Stone Panels in Sierra Brown, which she paired with matching Corners and Ledgers. These were using to cover all of the walls in the basement, transforming bland drywall into vividly realistic rock.
But the clever part was the secret door for the hidden bathroom. Erin cut around the texture of the stones, so that there was no visible break in the stone texture, and when the door opens the jagged edges separate seamlessly. It means the door is completely hidden when closed; and it's a feature that continues to wow guests. This was only possible thanks to the durable polyurethane foam our Norwich panels are made from - which can be trimmed to shape with nothing more complex than a regular wood saw.
Erin's finished basement bar with stacked stone panels in Sierra Brown color.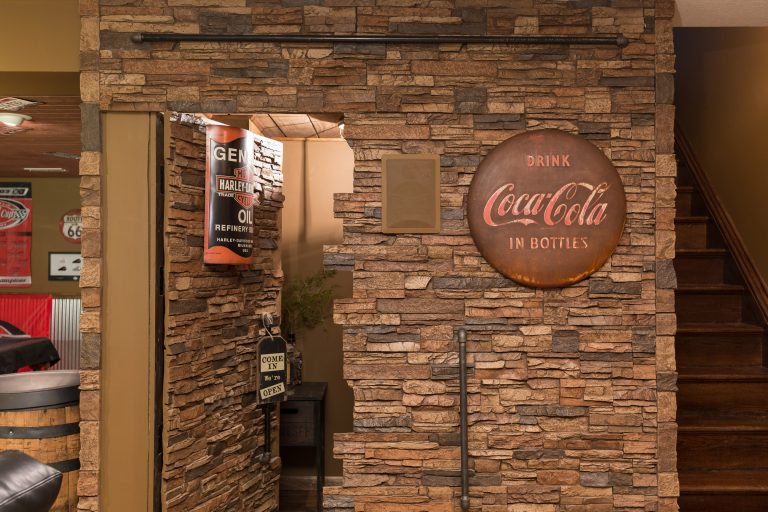 We can't get enough of this hidden doorway, leading to a secret bathroom.
Scott sent us pictures of a fireplace he'd resurfaced with Norwich Colorado Stacked Stone panels.
We loved this project because it demonstrated what faux panels often do best - bring a vividly realistic finish to a feature or fixture that couldn't have been achieved using the 'real' materials.
In Scott's case, he had a brick fireplace in his home that stood out like a sore thumb amidst his subtle, modern decor. The problem with real brick, though, is it's not that easy to swap out - not without a sledgehammer, a carpenter, and thousands of dollars of structural work.
Fortunately, Scott had a smarter idea - and reached out to us for an order of the Stacked Stone panels. With those, he was able to seamlessly resurface the fireplace - installing the panels directly onto the original brick to cover it completely. Scott used Corners to perfectly round the edge of the fireplace, and the end result looks like it was really made from hand-laid stone - impossible to tell from the real thing without reaching out and touching it.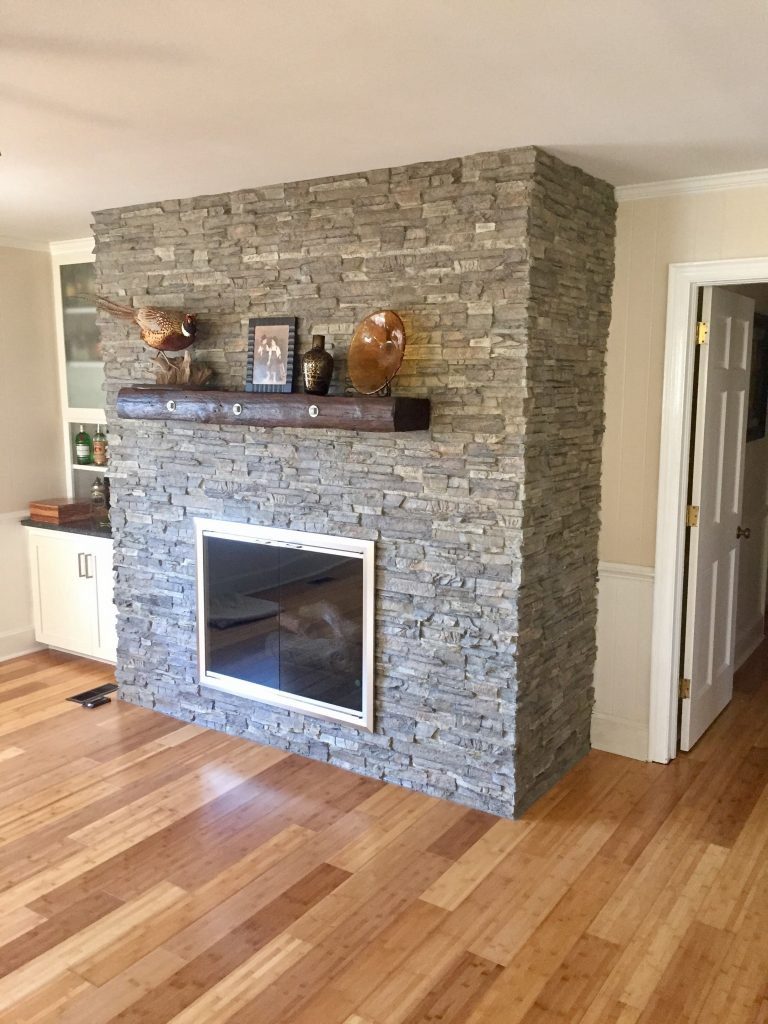 Scott's brick fireplace greatly improved with its new stacked stone facade.