Ray from Virgina describes himself as an "old contractor" - but that didn't stop him adding a bold new look to his beautiful home.
Stacked Stone Retaining Wall Adds Southwestern Flair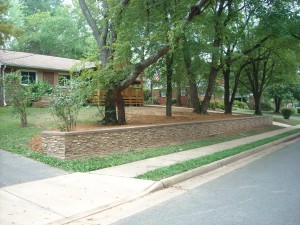 Ray's retaining wall is 70' long with 4' returns at each end.
Retired contractor Ray, from Alexandria, Virginia, built his former career on a reputation of excellence and attention to detail.
That's why, when it came to renovating his own beautiful home, those same high standards were evident from day one.
Ray's stunning home originally lacked "curb appeal" - so he added a bold new look using stacked stone veneer to add a hint of classic southwestern style.
When it came to building on that look, he turned to FauxPanels.com for help.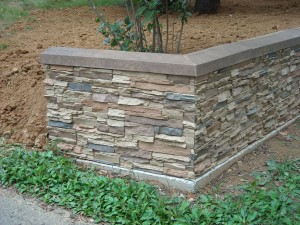 Ray mitered the corners rather than use corner posts because he believed it gave a more real look.
"The intention was to give a Southwest Texas look to the entire house," he wrote, sending pictures of the incredible new retaining wall he'd added to the front of his yard.
"So we attempted to match the colors on the stone on our house with your Norwich Colorado Stacked Stone Desert Sand Panels and wall caps."
Ray's wall ran the full length of his home's front yard; serving to add a bold border to his property, and give a really consistent look to his home's southwestern style.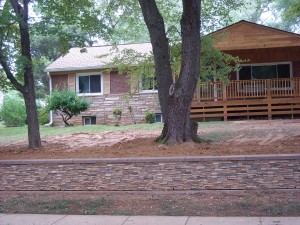 The wall was built to match the existing stone details of Ray's home.
The wall itself was made with regular blocks; but he finished it by installing our panels and wall caps to give the impression of a period stacked-stone wall. The wall caps helped to give the retaining wall a beautiful finished looked that further added to the illusion of professional masonry work.
And it works: "The panels are great and we constantly have people stopping to "gape"," he admits. "I actually have to convince most people that the walls aren't real stacked stone, because they look so realistic."
But while Ray is clearly proud of his accomplishments, and very satisfied with the way the wall looks, he admits there's one downside.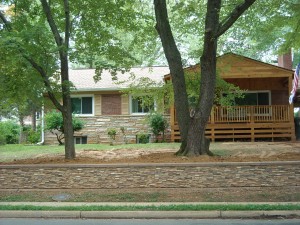 Now Ray's Virginia home has even more timeless "curb appeal."
"I'm an old retired General Contractor," he writes, yet people are so impressed with his wall it's serving as an advertisement of his services and "bringing me work I'm not sure I want!"