Faux Beams Getting Popular
Not a week goes by without another name in interior design praising the merits of solid beam alternatives like faux beams. The latest is Jennifer Adams, from the San Diego Union-Tribune.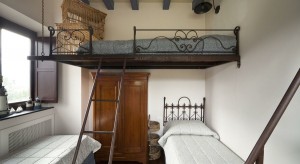 Jennifer Adams used this illustration to show how nice a well-placed beam could be.
"Beamed ceilings provide a classic, rugged look that adds personality to any home," writes Jennifer Adams, for the San Diego Union-Tribune. "But real beams are expensive, and they also are heavy. Lightweight faux beams made of paintable polyurethane, on the other hand, are probably a project you can do on your own if you have carpentry skills."
Her piece is just the latest of many praising the benefits of faux - which offers that same rugged, classic look without having to live in an authentic historic home.
One of the reasons beams are becoming more popular is the way shows like Extreme Makeover have been using them.
She advises: "Since beams are supposed to be holding up the ceiling, they should look big enough to do the job.
To figure out how many beams to install, consider the size of the room, the arrangement of the lights and the shape of the walls.
Typically, beams are evenly spaced across the entire ceiling from the windows to the inside. Don't be afraid of running the beams the opposite direction if you think it'll look better."
She also recommends beams straps and accessories to complete the look.
Its interesting how the popularity of these types of beams has exploded in recent years.
More times than not, its our beams that you'll see featured on TV.
We like to take part of the credit ourselves - especially since our products are frequently featured in design TV shows like Extreme Makeover: Home Edition and Man Caves.
While there are an increasing number of faux beams on the market, we stand by ours as industry leaders - not just from a cost and quality perspective, but because of the vivid realism of the different types of beams we offer.
There's a whole host of reasons why 'going faux' beats trying to use real wood in a home or business; but there's also a great benefit to ordering them online.
Unlike local building supply stores, FauxWoodBeams.com offers a vast range of products in a huge selection of colors, sizes and textures - meaning we can deliver exactly what sort of look you're going for, instead of having that dictated to you by whatever a store has in stock.
In any event, one thing's for sure - you're going to be seeing faux used more and more frequently, and in impressive places. We're proud to be riding the crest of this wave; and excited whenever we see people using our products in their homes or business.