A boutique snowboarding store gets a chalet-style makeover with our stone veneer panels.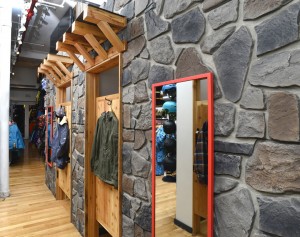 Chalet style chic comes courtesy of our Carlton Fieldstone Panels.
Snowboard Store Gets a Faux Panel Makeover
Winter sports make you think of snow - but often, they also make you think of wood and stone; materials often used in the construction of high-end ski resorts, cabins, chalets and lodges.
In order to bring a little of that atmosphere to the big city, snowboarding store Burtons recently used our Carlton Fieldstone Panels to decorate the interior of their high-end sports supply store.
Paired up with real-wood fixtures and fittings, the panels instantly add a chalet-style chic that's almost as evocative of the winter sports lifestyle as the scent of fresh powder. They're practically indistinguishable from the real thing - customers frequently reach out and touch the panels to find out whether they're actually stone or not.
The use of real-wood trim and accessories creates the perfect ski-lodge look.
And even better, this incredible transformation took just hours to accomplish. Our faux stone panels attached directly to the interior sheetrock of the store's walls; kept in place with regular construction adhesive and screws. The interconnecting panels slot together like a jigsaw piece; resulting in a totally seamless wall of faux stone.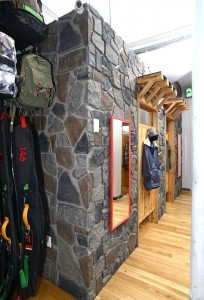 Mirrors and even light fittings were easy enough to add - because our panels can be cut and drilled using regular carpentry tools.
Likewise, our panels are made from durable polyurethane; which means they could be cut to size with a regular wood saw, and shelving, mirrors and even light switches could be installed right through the panels using nothing but a regular drill and screws with a little extra length.
But perhaps, best of all, is the price. Like many retailers, interior design and decoration is a precarious business. Stores change locations quite frequently, so it's important to have a product that's quick and easy to install (and dismantle) but also cost effective.
At less than $14 per square foot of coverage, our stone veneer panels are an incredibly affordable interior design option and, if looks had a dollar value attached to them, worth every penny.
Burtons is just the latest of many stores to use our faux stone and faux wood materials. If you want to see more, be sure to check our our gallery of Commercial Designs.