When our customer, Mark from Texas, completed his DIY porch remodel using Oxford Ledgestone panels, he emailed us and said, "Our local contractor / builder stopped by to check it out and was amazed at how much it looked like actual stone."
Simple DIY Porch Remodel with Ledgestone Panels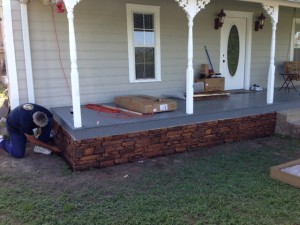 Installing the skirting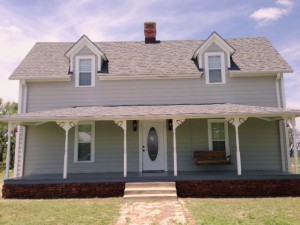 Notice the difference porch skirting brings to Mark's house.
Knowing that it would have been costly and time consuming to have his porch skirting built with actual stone by a professional builder, Mark was relieved to discover the more convenient alternative on our website.
As you can see in the photos below, Mark's completed project makes his house look vastly different from the way it looked previously. Beforehand, the house had nearly no visual appeal, thanks to the exposed area under the porch.
Before the remodel, Mark's porch had the unsightly exposure of the framing underneath.
Once the ledgestone panels were installed, the porch evoked the rustic charm of a country cottage and elevated the entire house from looking drab and unfriendly, to feeling like a warm and comfortable retreat.
In addition to the beauty they brought to Mark's home, the panels benefit his residence by concealing the unsightly framing under porch. Not only that, but they also prevent wildlife pests, like raccoons, from taking up residence under the porch.
"We chose this product as an alternative to actual stone installed by a mason. The look we desired was accomplished in two afternoons of work (8-10) hours total at about 1/3 the cost."
"The panels are light and easy to work with using common tools such as a circular saw, file, caulking gun and a cordless screw driver."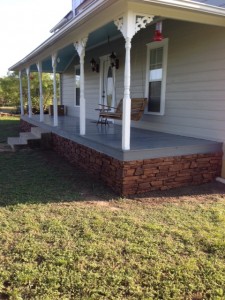 Complete porch side view
Mark was so happy about his how porch remodel went, in fact, that he added:
"The personnel were helpful and provided excellent customer service even calling us personally to discuss our needs."
Could your porch use the facelift and protection that our panels provide?
Let us know what you think in the comments section below.