Farmhouse Chic Porch Design
Fauxpanels.com customer Jefferey sent in pictures of his awesome screened in porch design, made with a little farmhouse style usingRegency Stacked Stone Panels.
Depending on how long you've been reading this blog, you'll definitely notice a theme in a lot of the home design projects we feature. People move into or build modern homes, and then use our stone and brick style products to add rich and detailed character to otherwise bland and nondescript rooms and exteriors.
This was certainly the case for Jefferey, who built a screened in porch complete with kitchenette using the latest modern building techniques; and then used the stacked stone panels to make it look like it came right out of an old farmhouse in the French countryside.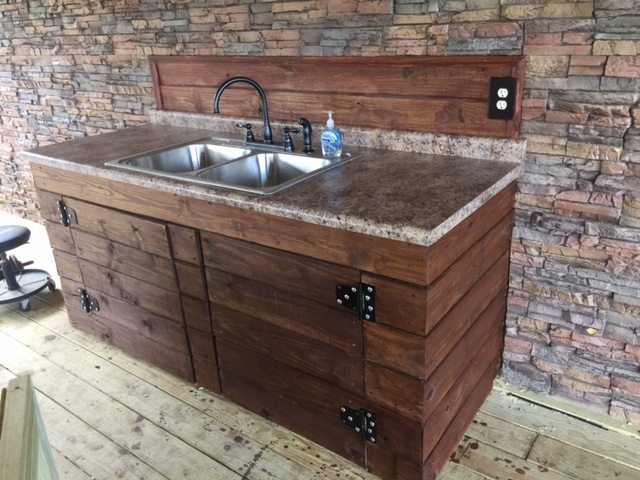 Jefferey's custom timber plank sink pairs perfectly with the Stacked Stone panels.
When building the porch, Jefferey paired modern materials with classic style. In the photos you'll see how he paired practical sheet steel roofing with beautiful timber beams, and covered the floor with oak hardwood; for a chic and classic look.
But Jefferey's real design genius came with how he handled the space between the ceiling and the floor.
Rather than leaving the somewhat bland white siding as it, Jeffery decided to embrace traditional farmhouse chic - and he used the Regency panels to do so. These panels are molded from authentic stacked stone walls, and vividly recreate the texture and appearance of that hand-laid stonework in lightweight and durable polyurethane. Painstakingly detailed in a multi-step painting process, these panels are then finished in a classic Earth tone, which makes them look astonishingly realistic.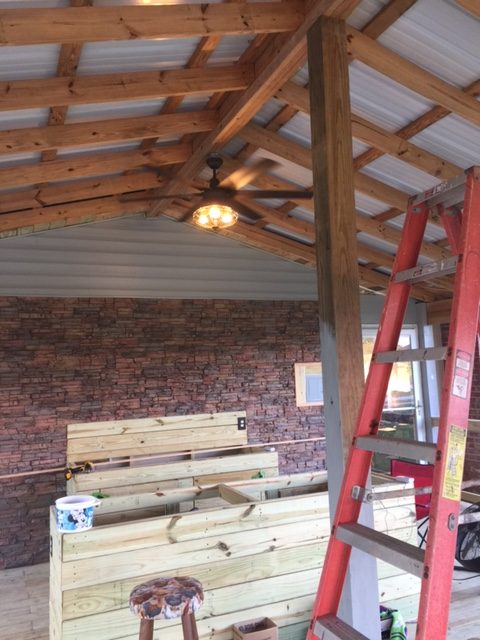 Jefferey seamlessly blended modern design with traditional materials like timber beams and hardwood floors.
Jefferey installed them across the entire wall, immediately turning it from uninspired to full of rich character. To further the classic farmhouse look, Jeffery built out a sink unit and kitchen island from timber planks, staining them a rich, dark brown to match the installed panels.
The result? An instantly stylish and unique porch ready for relaxing and entertaining. It's a truly breathtaking combination of materials that makes it both beautiful and practical.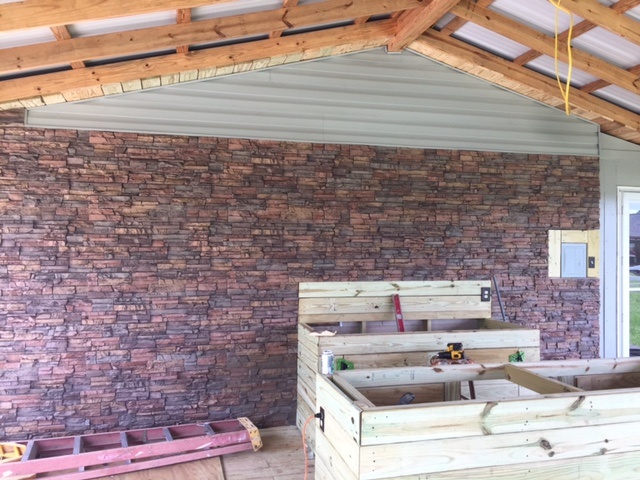 Jefferey built out the sink unit and kitchen island with timber planks, and then stained them a rich and dark brown.
If we were to offer some pointers to Jefferey, one thing we might have suggested is staggering the rows of panels when installing them. While they look awesome, as you can see from the photos, by trimming the first panel of each row in an installation, you avoid an obvious repetition of the stonework pattern - and make our already beautiful panels look even more seamless and realistic.
In any event, Jefferey did a fantastic job and we love this porch project. What do you think? We'd love to hear from you in the comment section below.