One of the things we love best about our faux wood beams is their versatility. Over the years we've received a lot of photos from customers, and are constantly amazed at how the same style beam can enhance so many design styles, settings and applications.
The Same Beam in Different Places
Below are examples of three of our bestselling faux beams and how they shine in different ways: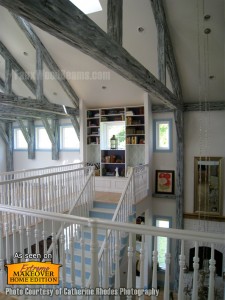 Featured on the Dunning Family episode of Extreme Makeover: Home Edition, gray-stained faux timber beams were used to build dramatic king trusses along the new home's cathedral ceiling.
Tom and Juli converted their home's basement into a rustic wine room with the help of Timber Beams in Walnut. We were thrilled to have the option of the faux wood beams - they look real, but weigh almost nothing. The room wouldn't be complete without them, and everyone who sees them are in awe...they think the beams are real!
Unfinished sandblasted beams add a little more geometric visual interest to this modern, diner style restaurant, while straight heavy sandblasted beams line the way in an elegant dining room.
Resawn style faux beams in a bold spider web pattern raise the ante for this remodeled casino. We specced your faux wood beams for this ceiling design so that we could lessen construction time and save on labor costs. Had we done this with real wood it would have been much harder and longer to complete.
Resawn beams in Cinnamon add a little more spice to a autumn hued hotel lounge area.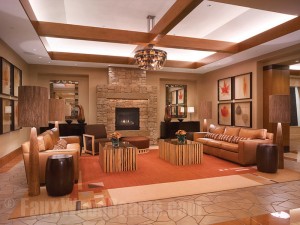 Where ever you are and whatever your style, faux wood beams ensure a great looking, professionally done result that's easy and cost effective to achieve. Need advice on your project? Our customer service reps have almost seen it all and are ready to help. Get in touch with any questions!