Some of our canny customers have helped bring a dynamic new element to their home redesign projects by combining our false beams with faux wood wall and ceiling panels. Here's one recent example a customer sent us; demonstrating a dynamic faux wood combo that used rustic barn wood ceiling panels paired with false beams for a look that really brings his room design to life.
Rustic Faux Wood Beam and Ceiling Panel Combo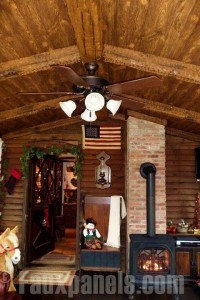 Neil's stunning Allentown home has an all-American look thanks to our faux wood beams and panels.
Forget the brick, steel and glass of the big city – everybody knows that America was really built on wood.
From the rustic log cabins of the early pioneers, to the cattle towns and cities that sprang up literally overnight across the Great Plains, each story was constructed from good, old American timber.
That's why, for homeowners looking to add a touch of classic Americana to their modern homes, a wood element is an absolute essential.
Here's one example of how a customer managed to achieve that look using our false beams in addition to our vividly realistic faux wood panels.
"The look I was going for," wrote faux wood beams customer Neil Hughes, from Allentown Pa., "was the classic American cabin." He'd already taken to one level by wood panel walls, a rugged brick chimney and a black iron stove that wouldn't have looked out of place on the Old Frontier.
But to take the look even further, Neil added our artificial timber beams across his ceiling; mirroring the way real wooden timber would have been used in the old days as structural support.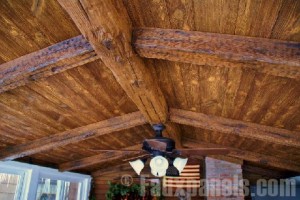 The combination of artificial wood veneer and our false beams is impressive.
And this is where it gets clever – because before the beams were installed, Neil used ceiling panels to enhance the design.
"They were really easy to install," Neil wrote. "The panels are incredibly light, and slot together so you really can't get the pattern wrong. The only challenge I had was cutting them to the right size – which I ended up doing with a regular wood saw."
Neil installed them to his sheet rock ceiling with construction adhesive, and then added a few wood screws for extra security.
Next came installing our artificial wood beams, which was also easier than Neil had anticipated:
"The beams are hollow, in a kind of U-shape," he wrote. "I screwed on a pair of mounting blocks, right on top of the faux wood panels I'd fitted, and then slotted the beam onto it. A few screws finished the job and then I was done."
And the finished product looks amazing. By using wood panel walls and building out this faux wood ceiling, it's impossible to tell that Neil's rustic little cabin was actually built from board and sheet rock in the late 1990s.
"I love it," he wrote. "It's given me the classic American look I was going for, plus the pride of knowing I did all of it myself."